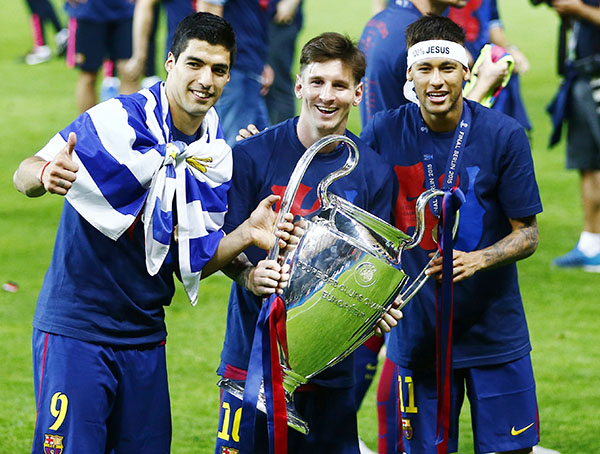 Barcelona's Luis Suarez, Lionel Messi and Neymar celebrate with the trophy after winning the UEFA Champions League Final at the Olympiastadion stadium in Berlin, June 6, 2015. [Photo/Agences]
BERLIN - Looking ahead to next year's Champions League final: Can the newly crowned champion, Barcelona, defend the European title it won so spectacularly against Juventus?
The record book would suggest not: Not since Milan in 1990 has a team won the European Cup twice in a row.
But Barcelona's 3-1 victory in Berlin on Saturday threw up strong reasons to believe that the now five-time winner could make it six very quickly, perhaps as soon as next year.
Here are five lessons learned from Barcelona's pulsating performance in Berlin:
THE ENRIQUE EFFECT:
In his first season as Barcelona coach, Luis Enrique has crafted a team that goes for the jugular faster. The basic style of play hasn't changed vastly: Barcelona still keeps the ball as much as it can. It had 62 percent of the possession against Juventus and its default position is still to build attacks methodically from the back.
Goalkeeper Marc-Andre ter Stegen avoided hit-and-hope long kicks up-field in Berlin's Olympic Stadium, because doing so would only have given more of the ball to Juventus.
But there is more adventure in Enrique's setup, a greater willingness to try other options going forward. Exhibit A: Barcelona's first goal came not from a long-winded exchange of short passes or a dribble from Lionel Messi. Instead, Messi got the attack started with a long diagonal pass from midfield. That landed for Jordi Alba, who quick as a flash passed to Neymar. The Brazilian then slipped the ball to Andres Iniesta, who neatly flicked it to Ivan Rakitic to score.
The combination was dizzyingly quick and devastating for Gianluigi Buffon, left with no chance from such short range in the Juventus goal.
SUAREZ PROVIDES BITE:
Having the strength and guile of Luis Suarez up front is one reason why Barcelona can be more direct in its attacks. Barcelona did its image no favors when it bought the striker after his infamous chomp of Italy defender Giorgio Chiellini's shoulder at the 2014 World Cup. The $110-million transfer from Liverpool made it look as though Barcelona was condoning the bad behavior that earned Suarez a lengthy ban.
But, for lack of a better word, the Uruguay striker does provide real attacking bite for Barcelona. He can make goals on his own, without the usual intricate buildup of play that is Barcelona's trademark. Teammates look for him, even with long up-field passes that former coaches at the club, notably Pep Guardiola, didn't advocate.
Suarez got Barcelona's second goal against Juventus, breaking a second-half 1-1 deadlock, and came close to scoring more.
IVAN THE TERRIBLE:
The swansong of Xavi Hernandez, for so long the engine of Barcelona's midfield, could hardly have ended better. He lifted the big-eared trophy in his 151st, and last, Champions League appearance for the only club he has ever played for. The 35-year-old's next stop is Qatar, where a new club awaits. He came on a second-half substitute against Juventus, replacing Andres Iniesta.
But instead of a hole where Xavi once dominated, Barcelona now has Rakitic. The Croatian midfielder, bought from Seville in the offseason, has slotted in like hand in glove alongside Iniesta in Barcelona's midfield, bringing vigor that Xavi no longer has and developing an intuitive understanding with Messi and Co., despite not having come up through the Barcelona youth system like his famous teammates.
It was Rakitic who popped up in the Juventus box to decisively and confidently score Barcelona's opener after just 3 minutes and a handful of seconds.
MESSI STILL GOLDEN:
Messi didn't score. He didn't even have a brilliant game. Even a four-time world player of the year can't be stellar every time. But Messi still finishes the season with 58 goals in 57 appearances, a ratio a whisker higher than a goal per game.
His giant contribution to Barcelona's triple haul of European Cup, Spanish league title and Spanish Cup should see Messi voted as Ballon d'Or again this year, in place of Cristiano Ronaldo.
AND JUVENTUS?
The loss leaves the Italian champion with an unwanted statistic: It is now the first team to suffer six European Cup final defeats.
That's not its only worry. Playing in the stadium where he won the 2006 World Cup with Italy, goalkeeper Buffon showed cat-like reflexes in keeping out a flurry of Barcelona shots. But at age 37, he is getting very long in the tooth for a club that will play Champions League again next season.
Andrea Pirlo, 36, will be a big pair of shoes to fill if this was the midfielder's last game for Juventus. Paul Pogba, at 22, could be the face of Juventus' future _ but only if he isn't lured away from the club by even bigger, richer sides that covet the strength and talent he showed in bursts against Barcelona.