Fourteen-time Grand Slam champion Rafael Nadal described his performance as "awful" as he crashed out of the Barcelona Open 6-4, 7-6 (6) to Italian Fabio Fognini on Thursday.
Despite losing to world No 1 Novak Djokovic in the semi-finals of the Monte Carlo Masters last week, Nadal came to the Catalan capital in high spirits after playing the best tennis of his season to date.
However, the eight-time champion was stunned for the second consecutive year in Barcelona as Fognini edged a tight first set before fighting back from a break down three times in the second to seal victory in a tiebreak.
"My play was awful and I didn't deserve to win," said Nadal.
"Fognini played better than me and deserved to win. Until I resolve the ups and downs I have had too often this season I will continue to be vulnerable.
"I made more mistakes than normal and didn't manage to maintain the advantage that I had in certain moments. To have a break three times in the second set and end up at 5-5 is a disaster."
Nadal sat out almost the entire second half of last season due to injury and illness and has struggled to recover his form since the turn of the year.
The Spaniard has just one title to his name this season, in Buenos Aires, and his only victory over a top-10 player through seven tournaments came against David Ferrer in Monte Carlo.
The nine-time French Open champion was also beaten on clay in Rio de Janeiro by Fognini this year.
Nadal has always managed to peak for the climax of the clay season at Roland Garros in Paris where he has only lost once and where he will target a 10th title next month.
However, he acknowledged he has plenty of work to do at the Madrid and Rome Masters in the coming weeks to get into any sort of shape to hold off the challenge of Djokovic who is aiming to complete the career Grand Slam in Paris.
"A week ago in Monte Carlo I had a lot of good moments. It was the best so far this year, but this is completely the opposite, it has been a very negative week," said Nadal.
"I thought that I would be able to play more consistently but it wasn't to be.
"I can only say goodbye to this tournament, one of the best ATP 500s and without doubt one of the best clubs in the world, and continue working hard to recover my best tennis."
After dropping the first set, Nadal appeared to have rebounded by breaking the Italian three times in the second set but Fognini answered each time.
In the tiebreaker, Nadal trailed 6-3 but came back to 6-6. Fognini went ahead and Nadal drove a shot long for only his third loss at the tournament.
"This is a blow for me but I accept the challenge and the negative day I had today. There is no other way forward other than to accept it or die."
After winning their first four career meetings, Nadal has lost twice to Fognini this year on his preferred surface.
Nadal's main concern is the loss of power to his trademark left-hand forehand, which Fognini matched stroke for stroke to set up his effective mix of drop shots and lobs.
"My forehand didn't have enough power, enough speed, and I didn't have enough control," he said. "My forehand has been my biggest virtue. But today my forehand was vulgar, it wasn't a forehand worthy of my ranking and career. I need my forehand to push my opponents back."
Nadal's next tournament will be in two weeks in Madrid.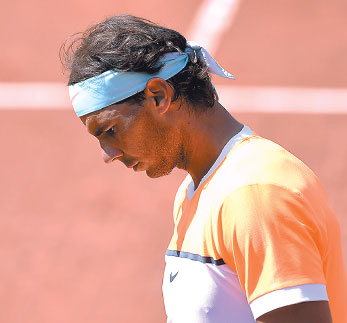 Rafael Nadal looks down after his loss to Italy's Fabio Fognini in the third round of the Barcelona Open on Thursday. Fognini won 6-4, 7-6 (6). Josep Lago / AFP
(China Daily 04/25/2015 page10)