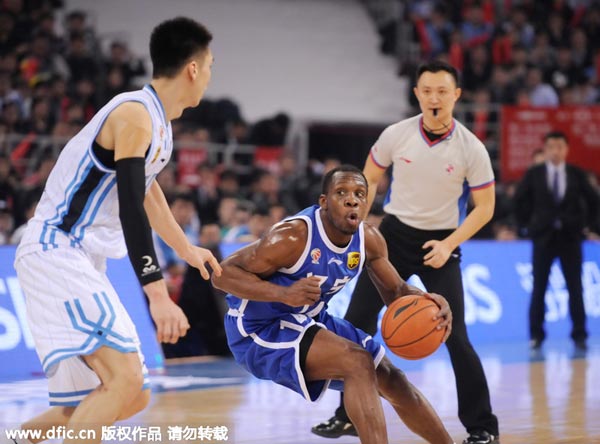 Lester Hudson, center, of Liaoning controls the ball against Sun Yue of Beijing during their fifth round of match in the best-of-seven finals of the CBA league in Beijing, March 19, 2015. [Photo/IC]
Liaoning's top scorer Lester Hudson finished the game with 31 points, nine rebounds and six assists. However, he missed 10 out of his 12 shots beyond the arc.
Five other Liaoning players got double digits. Han Dejun and Guo Ailun made 13 points each.
Liaoning had a better start, leading 6-2 in the early part of the first quarter. Beijing surpassed Liaoning afterwards, before the away team hit two straight shots to end the quarter 23-21.
The second quarter saw a better Hudson. The former Boston Celtics guard led Liaoning to take a 48-44 advantage by half time.
Liaoning kept leading Beijing in the third quarter. They once held a 10-point lead, but Beijing came back after a time out. The defending champions were down by two points at the end of the third period.
Fang Shuo played the beginning of the final quarter instead of Marbury, and that changed Beijing a lot. Fang performed well in both ends of the court, helping Beijing to take the advantage in hand.
Liaoning had difficulty in scoring in the final minute. Hudson missed three straight three-point shots, which broke the last hope of the guest team.