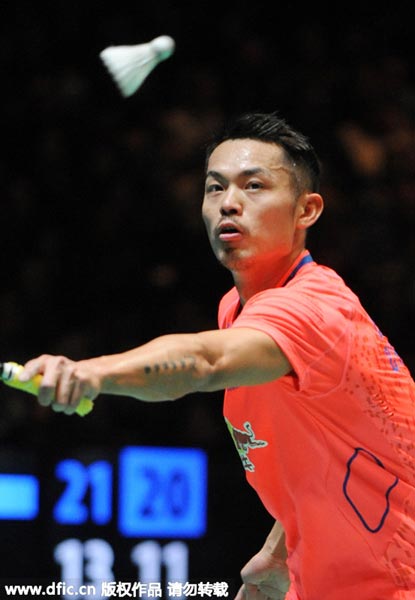 Lin Dan plays a shot during the men's singles semifinals against Chen Long at the All-England Badminton Championships in Birmingham, England, March 7, 2015. Chen Long beat Lin Dan 21-13, 21-12, to reach the final. [Photo/IC]
BIRMINGHAM, England - Lin Dan believes the decision to consign his semifinal with Chen Long to an outside court was one of the factors behind his defeat in the All-England Open on Saturday.
Chen, the world champion and world No 1, won for the first time against Chinese teammate Lin, a five-time All-England champ, by a surprisingly one-sided 21-13, 21-12.
Lin's star clash with Chen was beside the court set up for live television, which featured women's world champion Carolina Marin's win over Tai Tzu Ying of Taiwan. It meant no video replay was available for the outside court.
"I was disappointed not being on center court," Lin said. "There were more than two points there that were arguably lost.
"If there had been (video replay), the umpire could have made a far better judgment, and it might have been another story."
The lead changed hands in their first game before Chen ran away with it from 12-12. Lin, trying to become the first man to win six All-Englands in more than 40 years, led 8-4 in the second, but a defensively minded Chen stamped his authority with tight interchanges at the net, and winners down the line.
Lin briefly sparked into life at 17-10 down, but two late errors saw Chen proceed to the opening Superseries final of the year and, more importantly, his first win over his superior rival after six attempts on the world tour.