Padraig Harrington's game slipped so badly last year that he failed to keep full status on the PGA Tour for the first time. He wrote letters to tournaments asking for a sponsor's exemption and received one from every tournament but the CIMB Classic in Malaysia.
Some of the tournaments responded within an hour of his request. It was easy to see why, and not just because he is a three-time major champion.
The Honda Classic was the fifth straight tournament Harrington played, and he wound up winning in a playoff for his first PGA Tour victory since the 2008 PGA Championship. The immediate perk is a spot in the Masters through 2017.
And he is about to be very busy.
He has received exemptions to the Valspar Championship, Arnold Palmer Invitational, Valero Texas Open and Shell Houston Open. That is followed by the Masters, and it might be prudent for Harrington to return one of the exemptions so he is not worn out before Augusta National. That won't be happening.
"I've got four invites the next four weeks and I'm committed," he said. "One thing about getting an invite. I said, 'If you give me an invite, I'll be there'. While it's terrible preparation for the Masters to play four, I took the invite to Tampa, Bay Hill, San Antonio and Houston. And I will honor those invites because I got them. And I do appreciate them ... It doesn't change it now because I'm busy. I owe a few people favors."
His solution was to play the tournament and perhaps do less in the days leading up to the events. Except for one thing. Sponsor exemptions typically are asked to fill in on Monday pro-ams, or perhaps attending a sponsor party, sometimes both. Harrington now will be a draw for the Wednesday pro-am.
"I'll be taking most Tuesdays off," he said.
Harrington said he played 35 times last year - 32 were official world ranking events - and he would not be surprised if he played that many, or more, this year because of his commitments and tournaments for which he now is eligible, such as two World Golf Championships, the Masters and The Players Championship. He also plays in Europe to keep his membership. One tournament he did not get into was the Cadillac Championship at Doral.
And he was relieved.
"I couldn't do it," he said.
About 20 hours later, he was home in Ireland with a trophy and a much-needed rest.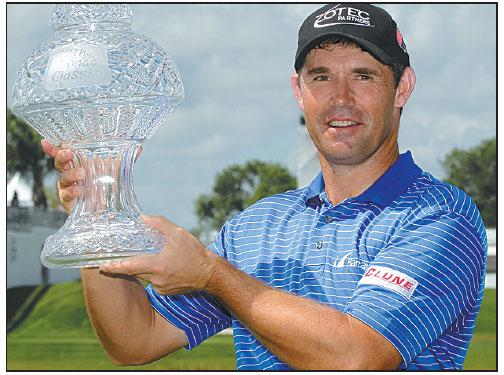 Padraig Harrington shows off the trophy after winning the Honda Classic in Palm Beach Gardens, Florida. Luis M. Alvarez / Associated Press
(China Daily 03/06/2015 page18)