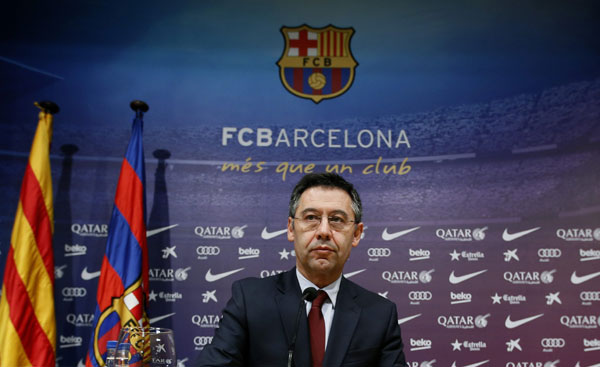 Barcelona's President Josep Maria Bartomeu attends a news conference at Camp Nou stadium in Barcelona January 7, 2015.[Photo/Agencies]
BARCELONA - There are some very real problems at Barcelona, and the firing of the club's sports director this week is the latest signal that the once almighty team has entered into meltdown.
While many neutral soccer fans have enjoyed watching Lionel Messi and his teammates win again and again, there are plenty in Barcelona still longing for the days when Pep Guardiola led the team to 14 of a possible 19 titles in a four-year span.
Not to mention a good deal of envy for Real Madrid's 10th European Cup victory last year and its Spanish record 22-match winning streak to end 2014.
The sense of impending doom that has settled over Camp Nou since the firing of Andoni Zubizarreta on Monday had been festering for more than a year, and it finally came to a head last week when the Court of Arbitration for Sport rejected Barcelona's appeal against FIFA's one-year transfer ban for violating rules regarding the registration of youth players.
Until then, the club had insisted - and many of its fans had believed - that they would win their case and the harsh penalty would never be applied.
Now the reality of a season with no new players for an aging squad is settling in.
Barcelona's faithful will have their chance to express themselves at home matches against Elche in the Copa del Rey on Thursday before Sunday's meeting with defending league champion Atletico Madrid. Many disgruntled supporters will have their handkerchiefs handy in case the team loses. They could demand president Josep Bartomeu calls for early elections instead of seeing out his mandate until 2016.
Barcelona greats Johan Cruyff and Hristo Stoichkov have already lamented the state of their former club.
"I believe Barcelona is heading toward chaos," Stoichkov said Tuesday. "There are too many controversies. I don't understand it."
On the field, the team has continued to churn out wins against minor opponents and can still challenge for titles.