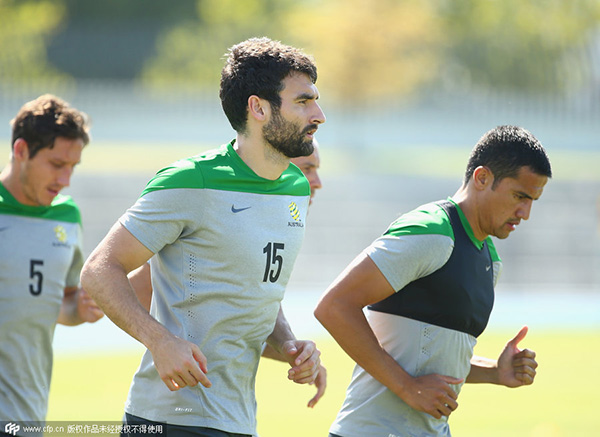 Mile Jedinak and Tim Cahill of Australia run during a training session at Lakeside Stadium in Melbourne, January 7, 2015. [Photo/CFP]
MELBOURNE - Asian Cup hosts Australia do not expect the same free-flowing contests that marked their World Cup campaign in Brazil and are gearing up to face teams intent on stifling their attacking threat in the group stage, said midfielder Mark Bresciano.
The Socceroos lost all three of their matches in Brazil to be eliminated from the group stage but won admirers for their enterprising play against the Netherlands, Chile and Spain.
Australia play world number 124 Kuwait in their tournament opener on Friday, before matches against 69th-ranked South Korea and 93rd-ranked Oman, and some might expect an easier run in front of home fans.
Not so, according to playmaker Bresciano, who said their Asian Cup opponents might prove tougher to crack than the teams at the World Cup.
"At the World Cup obviously, it was flowing, attacking games (for us), but I think we were playing against other opposition that play the same style of football," he said.
"I think this time around we'll be playing against other countries playing a different style, obviously going to stop us trying to play that attacking football for ourselves.
"But we're going to try to play the best to our ability and create as much opportunity as we can. But we know, for us, they're going to probably be tougher opponents to play against."
Kuwait, Australia's first opponents at Melbourne's Rectangular Stadium on Friday, will be something of an unknown quantity given they have had only four weeks under new coach Nabil Maaloul, who replaced Brazilian Jorvan Vieira after a poor Gulf Cup of Nations.
Kuwait's warmup match against United Arab Emirates was cancelled at the last minute on Saturday due to a dispute over recording the game.
The 34-year-old Bresciano, who has played for Qatari club Al-Gharafa in recent years, has some insight into Maaloul, who coached El Jaish in the same league last year.
"He's done very well there," Bresciano said. "I think his experience will probably help the Kuwaiti team.
"When a new coach comes in, a lot of things change, not only physically but mentally for the players. I think they'll come out probably with a lot of confidence."