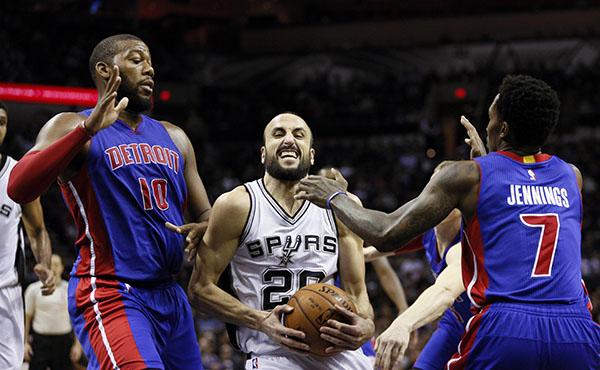 San Antonio Spurs shooting guard Manu Ginobili (20) drives for the basket between Detroit Pistons power forward Greg Monroe (10) and point guard Brandon Jennings (7) during the first half at AT&T Center in San Antonio, Jan 6, 2015. [Photo/Agencies, Soobum Im-USA TODAY Sports]
WASHINGTON - Brandon Jennings drove for the buzzer beater as the Detroit Pistons rallied for a 105-104 win over the San Antonio Spurs Tuesday night.
Drummond had 20 points and 17 rebounds and Monroe added 17 points and 11 rebounds for the Pistons, who have won their six straight games.
Tim Duncan had 15 points and seven rebounds for San Antonio, whose point guard Tony Parker played just 13 minutes with three points after returning from a five-game absence due to a strained left hamstring.