Mask has become a support product for training of athletes, the General Administration of Sport of China announced at a press conference in Beijing.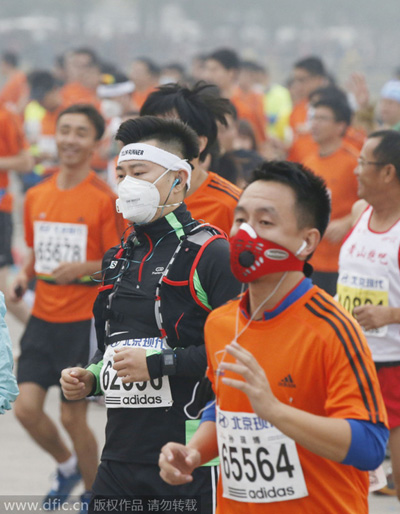 Marathoners run in Tiananmen Square with face masks to protect themselves from hazardous smog during the Beijing International Marathon held in the Chinese capital on Oct. 19, 2014. [Photo/IC]
The lung capacity of athletes is about 7,000 to 8,000 milliliter, which is two or three times of a normal person. When doing strenuous exercise, the maximum oxygen uptake of players can reach 60-70 ml per kilogram of body weight per minute, 1.5 times of the average person.
Additionally, athletes frequently expose themselves to the outdoor air during training, so the smog poses a considerably higher risk to them.
It not only has an adverse effect on their health, but also impacts their performance.
More than 30,000 participants ran the marathon in Beijing's haze on Oct 19, and some of them felt discomfort during the event.