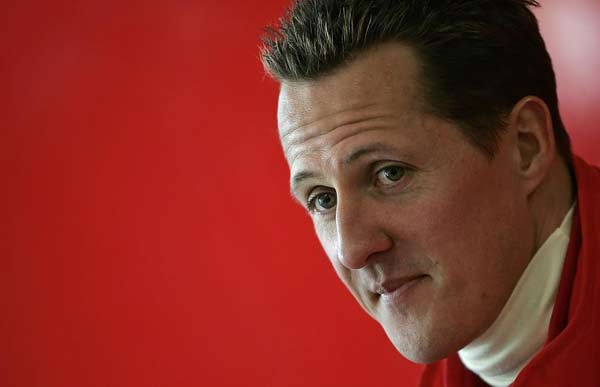 Michael Schumacher of Germany looks on during a news conference at the end of the official presentation of the new Ferrari Formula One race car 248 F1 at the Mugello racetrack in Scarperia, central Italy, in this Jan 24, 2006 file picture. [Photo/Agencies]
PARIS -- Michael Schumacher's website is to be reactivated on Thursday, according to a brief statement by the seven-time Formula One world champion's manager Sabine Kehm on Wednesday.
The release read: "November 13, 1994, is a special day in the sporting life of Michael Schumacher - 20 years ago he was the first German to ever win the Formula One world championship title, his first of seven titles.
"To mark the 20th anniversary of his first world champion title we will reactivate Michael's homepage. We hope to thus give the many fans from all over the world, whose sympathy is still unbroken after his accident, a home."
The 45-year-old German driver had suffered a severe traumatic brain injury in a skiing accident on December 29, 2013 in Meribel French, and had been under an artificial coma for six months in the University Hospital of Grenoble until being transferred to the University Hospital of Lausaane for continuous treatment last June.
He returned to his private villa, located on the shore of Lake Geneva at Gland in Swiss canton of Vaud, earlier in September to continue with his rehabilitation at home, where he lives with his wife and two children.
"The newly designed homepage features many pictures and stories of Michael's unparalleled career, all races, data and facts. There is also a fan-area where fans can send their twitter- messages to," said Kehm.
The website, www.michael-schumacher.de which will be online from Thursday 13 November 09:00 MEZ onwards, has a message from the driver's family posted by Kehm from Gland, headlined with " Thank you all so much!"
"We would like to thank all the people who wish Michael well for their positive energies. We are sure they had helped him already," read the post in both German and English.
Related stories:
Schumacher's doctor sees progress after injury