For his final game as baseball commissioner, Bud Selig was able to see the low-budget Kansas City Royals compete with the high-spending San Francisco Giants for the title.
Game 7 of the World Series on Wednesday night featured a pair of wild-card teams that had already played during the regular season in a finale hosted by the club whose league won the All-Star Game. With managers able to contest calls by umpires, the final decision came from a replay room far from the field.
All those innovations came during Selig's 22 years in charge.
Yet his biggest imprint before departing in January might be the economic changes he helped usher into the tradition-bound game.
"It's our job to provide hope and faith and have the system where teams can compete," Selig said during the summer All-Star Game FanFest. "Not just on the size of the market but on what they do."
With baseball's 19th-biggest payroll at $97 million, Kansas City fell just short of becoming the first team from among the bottom half of spenders to win the title since the 2003 Florida Marlins.
The Royals extended San Francisco (sixth at $165 million) to a seventh game before losing 3-2 in their first postseason appearance since winning the 1985 World Series.
Then the Milwaukee Brewers owner, Selig took over as baseball's boss in September 1992 after helping lead the group that forced the resignation of commissioner Fay Vincent.
As chairman of the executive council, he pushed for a salary cap that led to a 7 1/2-month strike and the cancellation of the 1994 World Series.
He didn't get the cap, but revenue sharing and a luxury tax were in the labor contracts that emerged and they helped the middle and smaller markets compete.
"The '90s were painful. We had to change the whole economic structure," he said. "So today there's hope and faith in Milwaukee, Cincinnati, Pittsburgh, the Twin Cities, on and on and on. As a result, baseball is so much stronger and so much better."
Selig, now 80, presided over nearly one-fifth of all World Series games ever played: 121 of 641. After years of saying he would never take the job permanently, Selig did just that and was elected commissioner in July 1998. He agreed to a new contract in 2001, first announced his planned retirement in 2003 and went on to agree to new deals in 2004, 2008 and 2012.
He leaves a legacy in concrete: 20 of the 30 big league ballparks opened during his tenure.
While that building boom enhanced revenue and fan experiences, critics say he backed clubs trying to extract government mone.
Selig also pushed for splitting each league into three divisions instead of two and the expansion of the playoffs from four teams to eight (1994); interleague play (1997); having the All-Star Game winning-league receive World Series home field advantage (2003); and another playoff expansion to 10 teams (2012).
Selig said he will depart with no regrets.
"I don't know that I have anything that I can honestly say to you today where I wish I hadn't done that," he said.
"And I'm apparently very tough on myself. I do second-guess myself a lot."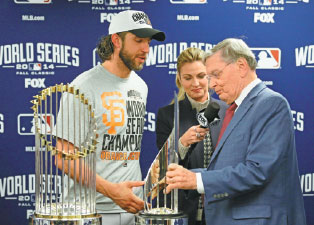 MLB commissioner Bud Selig presents San Francisco Giants pitcher Madison Bumgarner with the MVP trophy after Game 7 of the World Series in Kansas City on Wednesday night. Charlie Neibergall / Associated Press
(China Daily 10/31/2014 page24)