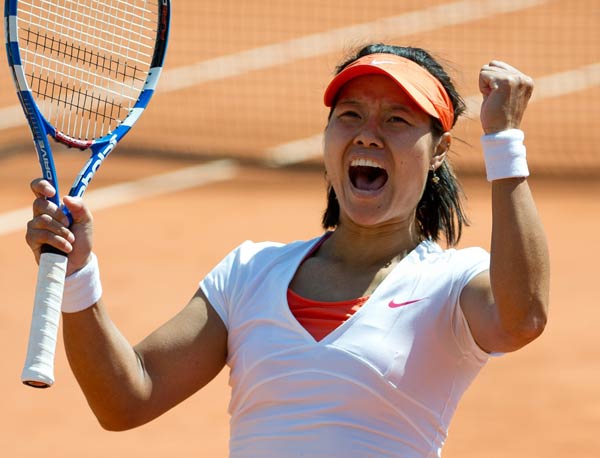 Bowing out: Li Na [Photo/Xinhua]
A farewell letter from tennis ace Li Na announcing her retirement ended speculation about her future on Friday.
Although the 32-year-old has been unable to overcome a severe knee injury, the two-time Grand Slam winner's achievements have brought her widespread and lasting acclaim.
"It's a great pity (that Li is retiring)," said Xiao Tian, deputy director of China's State General Administration of Sport. "We respect her decision and wish her well for the future."
With her Grand Slam trophies, many breakthroughs for Chinese tennis and strong personality, Li is one of few sports figures in China to enjoy international fame, along with basketball star Yao Ming and hurdler Liu Xiang.
In a Western-dominated sport, Li helped China to build a solid reputation in tennis following her success at the French Open in 2011, where she became the first Asian player to win a Grand Slam singles title.
Li won her second Grand Slam title in Melbourne in January, becoming only the second woman in her 30s to win the Australian Open in the Open Era, after Margaret Court. This victory saw Li rise to No 2 in the world on Feb 17, the highest ranking attained by an Asian player.
The "Li Na era" in tennis drew praise from the sport's governing body.
"In addition to her amazing tennis ability and warm and humorous personality, she is a pioneer who opened the door to tennis for hundreds of millions of people throughout China and Asia," Women's Tennis Association chairman and chief executive officer Stacey Allaster said.
The popularity of Li, who has more than 23 million followers of her micro blog, helped put China on the global tennis map.
Before 2010, there were only two international tennis events in the country. With the rise of Li and other women's players of her generation, including Zheng Jie and Peng Shuai, China has attracted more WTA tournaments, such as the Tianjin Open and the new Wuhan Open in Li's hometown in Hubei province.
Young player Zheng Saisai said while preparing for matches at the Asian Games in Incheon, South Korea, "Because of the contribution made by Li's generation, people now say that China is a tennis powerhouse.
"When we go abroad to compete, there are more reporters covering our matches. Chinese players are now considered a powerful group in tennis and have gained more respect internationally."
Contact the writers at sunxiaochen@chinadaily.com.cn and leilei@chinadaily.com.cn