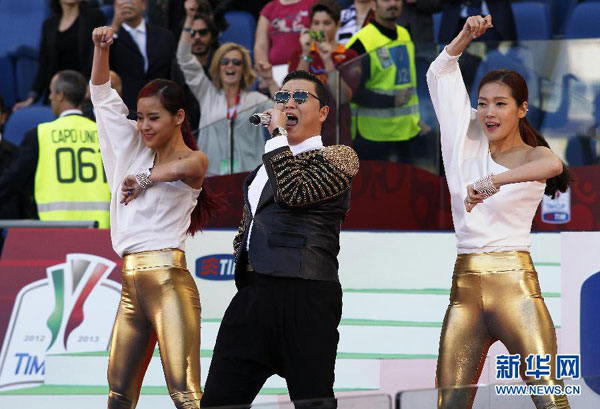 South Korean singer Psy performs before the Italian Cup final soccer match between AS Roma and Lazio at the Olympic stadium in Rome May 26, 2013. [Photo/Xinhua]
INCHEON, South Korea - South Korean pop singers EXO, JYJ and Psy will put a gloss on performances to congratulate the opening of the 17th Incheon Asian Games on Friday.
Pop idol group EXO will perform before the opening ceremony begins with its main programs. Another idol band JYJ will take to the stage after the torch lights the cauldron. They will perform as the first act of the penultimate event of the ceremony. JYJ is the honoary abassador for the 17th Asian Games. The group will sing "Empty," the title song off their first album.
The final icing on the cake will be world star Psy. He will collaborate with internationally acclaimed Chinese pianist Lang Lang to perform his hit song "Champion" together before singing "Gangnam Style", which caused a worldwide sensation, as the finale of the night's event just before athletic delegates exit the stadium.
Hallyu actors will join them in escalating the festive mood of the openign ceremony.
Actor Jang Dong-gun is to appear in the second part of the ceremony to pick up a hoop to give it back to a girl who rolls it and then slips it. Actor Kim Soo-hyun, who shot to fame at home and abroad with his lead role in the TV hit drama "My Love from the Star," joins the "hoop" girl on a ship for a journey.
Not only pop stars but also classical musicians including soprano Sumi Jo and the Incheon Philharmonic Orchestra will turn in memorable performances.