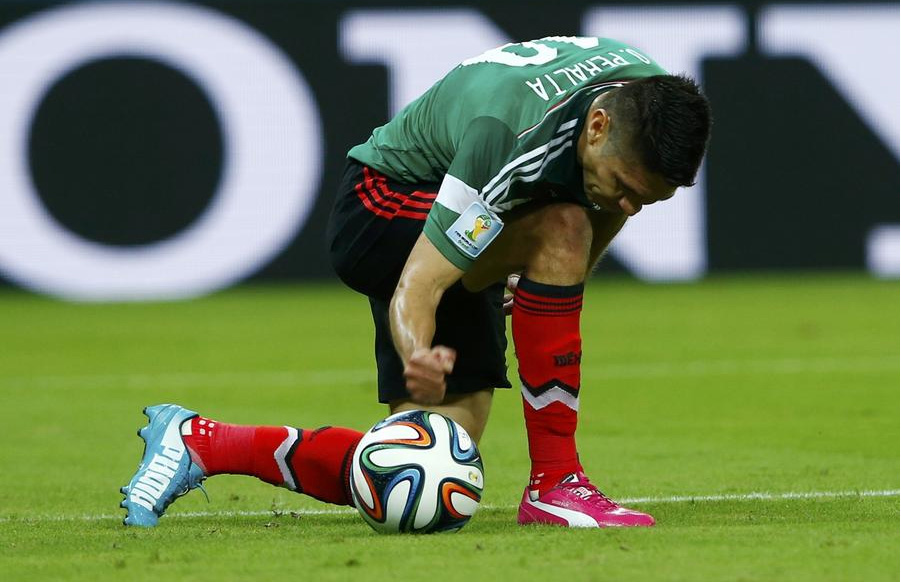 Mexico's Oribe Peralta reacts after missing a scoring opportunity during their 2014 World Cup Group A soccer match against Croatia at the Pernambuco Arena in Recife, June 23, 2014. [Photo/Agencies]
Mexico appeared to be laboring through a downspell before this World Cup. It struggled just to qualify out of CONCACAF and fired three coaches in a year's time before Miguel Herrera took over and ultimately rescued Mexico's hopes by soundly beating New Zealand in a last-chance qualifier.
In the hours leading up to the match, Miguel Herrera, known as a coach of the people for the way he engages fans on social media and at times in public, implored the Mexico faithful to "stay together" and sing the national anthem "like never before."
Mexican fans, whose green jerseys distinguished them as the overwhelming majority in the crowd, did not disappoint, belting out a thunderous rendition.
Croatia had expected to play before a crowd heavily in Mexico's favor, with star Real Madrid midfielder Luka Modric saying on the eve of the match that the game would not be won in the stands, and that his side was motivated to silence the crowd.
Croatia players were heckled each time they took a corner kick, and goalkeeper Stipe Pletikosa was heckled whenever he touched the ball.
Mexico's attacking play also enlivened the crowd, particularly a sizzling 25-yard shot by Hector Herrera that rattled the crossbar in the 16th minute.
In the 19th, Oribe Peralta pounced on a bounding ball from Herrera in the penalty area, but his sliding attempt to chip over the advancing Pletikosa went wide.
Croatia enjoyed the bulk of possession in the opening 45 minutes, but didn't force Ochoa to make a single save.