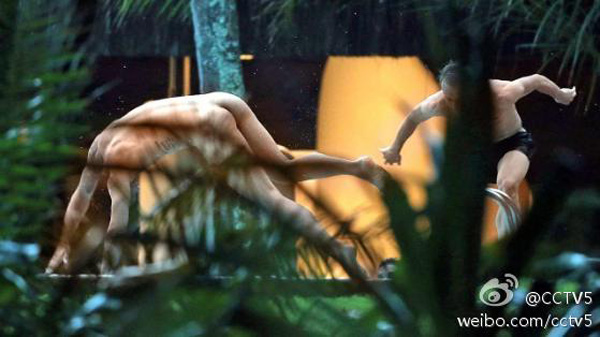 Nude photos of Croatia's players swimming and resting are published by Croatian media over the weekend. [Photo CCTV 5 via Sina Weibo]
SALVADOR, Brazil - Croatia's coaches are urging their players to focus on facing Cameroon at the World Cup rather than lamenting the publication of photos showing some of them bathing nude at their training complex's swimming pool in Brazil.
Since the paparazzi photos were published by Croatian media over the weekend, players have refused to speak to the media.
"The players are talking about that theme, but we want them to concentrate on the match against Cameroon," assistant coach Robert Kovac said on Tuesday. "If those photos were not published, they would be thinking about Cameroon. Like this, they are distracted by things outside the pitch."
However, Kovac said he understood the players' reasons for boycotting the media.
"That was a private thing," he said. "They had a day off and they relaxed a bit. It was not appropriate by photographers to abuse the situation."
Meanwhile, the stakes will be high in Wednesday's Group A game at the Arena da Amazonia in Manaus, as both sides lost their opening match. Croatia was beaten 3-1 by Brazil, while Cameroon went down 1-0 to Mexico.
"I don't want to deal with that," Croatia coach Niko Kovac said late Tuesday in Manaus. "That's behind us."
Robert Kovac said the match in the Brazilian rainforest could be won by the team which copes better with the hot and humid conditions.
"It will be tough in Manaus, where conditions are inhumane," Robert Kovac said. "It is important that we win ball possession, be patient and create opportunities."