She once posed for a photograph with an eight-year-old Eugenie Bouchard but that friendly touch was not on show on Thursday as Maria Sharapova wiped the smile off the Canadian's face to set up a French Open final with Simona Halep.
While a 2002 photo of a statuesque Sharapova wrapping her arm around a pixie-like Bouchard has gone viral over the past 48 hours, the Russian hogged the limelight at Roland Garros as she shrieked her way to her third successive Paris final with a 4-6, 7-5, 6-2 win.
"Winning a match where I felt my opponent played extremely well, exceptional tennis and I didn't feel that I was playing my best, I fought, I scrambled, and I found a way to win," said seventh seed Sharapova after a third straight win from a set down.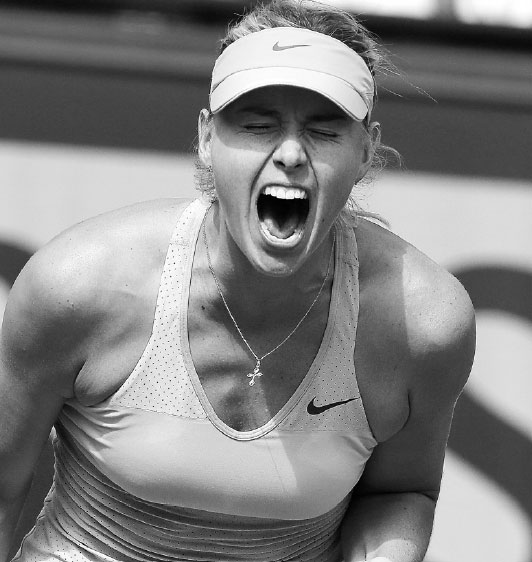 Maria Sharapova reacts after a point during her French Open semifinal victory against Eugenie Bouchard on Thursday. Patrick Kovarik / Agence France-Presse
She produced nine double faults, 35 unforced errors and was broken four times in a messy performance but the shot that mattered most was the blazing forehand she sent flying past Bouchard's racket on her fifth match point.
That left the Russian bellowing into the skies while Bouchard, dubbed the 'next Sharapova' was left to reflect on what might have been.
"When you play a great champion, you definitely feel their presence. Often I constructed the point well and then didn't finish it as well as I could," said the 20-year-old, who failed in her bid to become the first Canadian woman to reach a Slam final.
"I had a couple of chances here and there and just didn't take my opportunities when I had a few of them. That's part of the learning experience for me."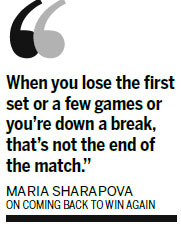 Halep, 22, proved she is a fast learner as she became the first Romanian in 34 years to reach a Grand Slam final by dousing the fire of Andrea Petkovic with a 6-2, 7-6 (4) win.
While Halep will turn up for Saturday's final with a fresher pair of legs, having contested only 12 sets, Sharapova remained undaunted by the fact she had just survived her third successive three-set duel.
"If some things are not working out, I don't just want to quit in the middle. Because when you lose the first set or a few games or you're down a break, that's not the end of the match," said the Russian, who would have dropped out of the top 10 if she had lost on Thursday.
"That's the type of philosophy that I play with."
It is mantra that has served her well ever since she won the first of her four Grand Slam titles a decade ago at Wimbledon and she proved on Thursday her desire to do well still burns bright.
Even when Bouchard was serving at 40-0 up in fourth game of the second set, Sharapova kept looking for the angles and her perseverance paid off as she spooked the Canadian into surrendering the game with a double fault.
(China Daily 06/07/2014 page15)