The last time Dwyane Wade played an NBA Finals game, he needed fluid drained from his left knee and eight hours of intense game-day therapy just to get into uniform.
The Miami Heat guard later described the ordeal in a single word: "Hell".
It was also worth it, after he scored 23 points, grabbed 10 rebounds and hoisted his third Larry O'Brien Trophy.
Now, unlike last year, Wade is not dealing with any injuries heading into Miami's rematch against the San Antonio Spurs.
At 32 years old and with 866 NBA games already on his odometer, Wade still deals with plenty of aches and pains, good days and bad days, and basically has a standing appointment in the Heat training room.
But compared to last season's Finals, his knees are as good as new.
"He's a big-time, huge piece to our puzzle," teammate and four-time league MVP LeBron James said. "To have him out there in the groove that he's in right now, it's going to help us."
The Heat are looking to win their third straight title and Wade is on the cusp of joining a list of all-time NBA greats.
There are just seven players with four championships and at least one NBA Finals MVP award on their resumes: Kareem Abdul-Jabbar, John Havlicek, Magic Johnson, Shaquille O'Neal, Kobe Bryant, Michael Jordan and the Spurs' Tim Duncan.
Wade could be the eighth man to join that club.
"We just want to continue to add to what we're accomplishing," he said.
Almost forgotten amid all the memories of Wade limping around during last year's playoffs - he whacked what was his "good" knee at this time last year, the surgically repaired left one, in a collision with the Spurs' Manu Ginobili during Game 6 - is he had big games when Miami needed him.
Through his first 14 games of the 2013 playoffs, Wade was averaging 13.6 points.
In the final eight games of that postseason run, starting with Game 7 against Indiana, he averaged 19.8.
And in the final four games of the Finals, he averaged 23.5 points against the Spurs to close the series. As his knees got worse, Wade got better.
"He still found a way last year," Heat coach Erik Spoelstra said. "He really did. He had some of his biggest games in the Finals."
This year, the Heat tried to leave nothing to chance with Wade's health.
The so-called maintenance plan for Wade - limiting his minutes to save his knees - kicked in on the second night of the regular season. He wound up missing 28 games in all, mostly because of that rest-and-rehab scheme, to ensure he would be good to go in the playoffs.
The results can't be argued. Wade is averaging 18.7 points on 52 percent shooting, and when getting more than three days rest - like the Heat will have before Game 1 in San Antonio on Thursday night - the perennial All-Star has had games of 23, 14, 27 and 23 points on a combined 60 percent shooting.
"Dwyane is playing great," Spurs coach Gregg Popovich said on Tuesday. "He looks a lot more spry and ready to go then he did last year in the Finals."
Maybe the biggest payoff of the regular-season maintenance plan has been how Wade has closed games in this postseason.
He is shooting 56 percent in fourth quarters during the playoffs, the best clip of his career and the best percentage of any guard with more than 30 shots in the final period of postseason games this season.
TEAM PROFILES
MIAMI HEAT
NBA titles: Three (2013, 2012, 2006)
· Miami was admitted to the NBA in 1988 as an expansion franchise. It plays in the Southeast Division of the Eastern Conference.
·  Nicknamed the Heat, the team has made the playoffs in 18 of its 26 seasons.
·  After a slow start, it began to emerge as a leading team in the mid-1990s after hiring Pat Riley as head coach, winning divisional titles in 1997, 1998, 1999 and 2000.
·  Miami won its first championship in 2006, shortly after it drafted Dwyane Wade and acquired Shaquille O'Neal from the Los Angeles Lakers.
·  Before the 2010-11 season, LeBron James and Chris Bosh joined Wade in Miami to establish the 'Big Three'. In their first season together they won the Eastern Conference but lost to the Dallas Mavericks in the NBA Finals.
·  The Big Three captured their first title together in 2012 with a 4-3 series win over the Oklahoma City Thunder and successfully defended their title a year later with a 4-3 win over the San Antonio Spurs.
2013-14 regular season record: 54-28
·  Qualified for the NBA Finals by beating the Charlotte Bobcats 4-0 in the conference quarterfinals, the Brooklyn Nets 4-1 in the conference semifinals and the Indiana Pacers 4-2 in the conference final.
Head coach: Erik Spoelstra
Top playoff scorer: LeBron James (27.1 points per game)
Top playoff rebounder: LeBron James (6.8 rebounds per game)
SAN ANTONIO SPURS
NBA titles: Four (2007, 2005, 2003, 1999)
·  The San Antonio franchise was founded in 1967 as the Dallas Chaparrals, a member of the old American Basketball Association, and after being known as the Dallas and Texas Chaparrals they became the San Antonio Spurs in 1973.
·  Three years later they joined the NBA, one of four former ABA teams to remain intact after the two leagues merged in 1976. It is the only former ABA franchise to win an NBA championship and currently plays in the Southwest Division.
·  Led by Hall of Famer George Gervin, San Antonio captured five division titles in its first seven years in the NBA and was a perennial playoff participant.
·  It won its first title in 1999 behind the Twin Towers of future Hall of Famer David Robinson and current standout Tim Duncan.
·  The addition of French shooting guard Tony Parker and Argentine point guard Manu Ginobili brought three more titles - in 2003, 2005 and 2007.
·  Its four NBA titles are the fourth most in league history, behind the Boston Celtics (17), Los Angeles Lakers (16) and Chicago Bulls (six).
2013-14 regular season record: 62-20
·  Qualified for the NBA Finals by beaing the Dallas Mavericks 4-3 in the conference quarterfinals, the Portland Trail Blazers 4-1 in the conference semifinals and the Oklahoma City Thunder 4-2 in the conference final.
Head coach: Gregg Popovich
Top playoff scorer: Tony Parker (17.2 points per game)
Top playoff rebounder: Tim Duncan (8.9 rebounds per game)
RECENT CHAMPS
2013 - Miami Heat def San Antonio Spurs 4-3
2012 - Miami Heat def Oklahoma City Thunder 4-1
2011 - Dallas Mavericks def Miami Heat 4-2
2010 - Los Angeles Lakers def Boston Celtics 4-3
2009 - Los Angeles Lakers def Orlando Magic 4-1
2008 - Boston Celtics def Los Angeles Lakers 4-2
2007 - San Antonio Spurs def Cleveland Cavaliers 4-0
2006 - Miami Heat def Dallas Mavericks 4-2
2005 - San Antonio Spurs def Detroit Pistons 4-3
2004 - Detroit Pistons def Los Angeles Lakers 4-1
2003 - San Antonio Spurs def New Jersey Nets 4-2
2002 - Los Angeles Lakers def New Jersey Nets 4-0
2001 - Los Angeles Lakers def Philadelphia 76ers 4-1
2000 - Los Angeles Lakers def Indiana Pacers 4-2
1999 - San Antonio Spurs def New York Knicks 4-1
1998 - Chicago Bulls def Utah Jazz 4-2
1997 - Chicago Bulls def Utah Jazz 4-2
1996 - Chicago Bulls def Seattle SuperSonics 4-2
1995 - Houston Rockets def Orlando Magic 4-0
1994 - Houston Rockets def New York Knicks 4-3
1993 - Chicago Bulls def Phoenix Suns 4-2
1992 - Chicago Bulls def Portland Trail Blazers 4-2
1991 - Chicago Bulls def Los Angeles Lakers 4-1
1990 - Detroit Pistons def Portland Trail Blazers 4-1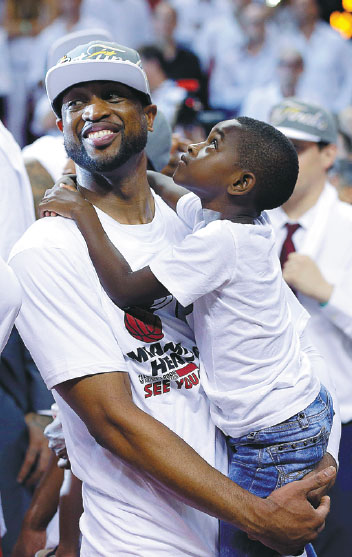 Miami guard Dwyane Wade holds his son Zion after the Heat clinched the Eastern Conference championship by beating the Indiana Pacers 117-92 last week in Miami. The Heat will face the San Antonio Spurs in the NBA Finals, starting on Thursday. Lynne Sladky / Associated Press
(China Daily 06/05/2014 page24)