Over the past 10 NBA seasons, only one player has been part of more wins than LeBron James.
His name is Tim Duncan.
Their numbers over that decade are incredibly similar. Duncan has appeared in 622 regular-season and playoff victories, James has played in 621. Duncan is shooting 50.2 percent from the field, James is shooting 50 percent. Duncan has won two championships with San Antonio during the 10-season stretch, James has two with Miami.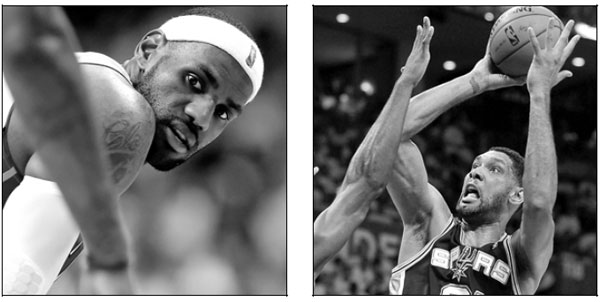 LeBron James of the Miami Heat and Tim Duncan of the San Antonio Spurs will renew their 10-year rivalry when the NBA Finals open in San Antonio on Thursday. Each player has won one championship in their head-to-head battles over the past decade. AFP
Plus, when facing each other in the NBA Finals, both has won one, lost one.
Here comes the tiebreaker: a Finals rematch with high expectations.
Miami and San Antonio are the league's last two teams standing for the second consecutive year, and their next chapter begins on the Spurs' home floor on Thursday night.
The Heat won a wild series last season for their second straight championship, needing a frantic rally to avoid elimination in Game 6 and then riding the strength of a 37-point, 12-rebound effort from James to top the Spurs in Game 7.
"I think our guys, they actually grew from the loss last year," Spurs coach Gregg Popovich said. "I call it fortitude. I think they showed an unbelievable amount of fortitude.
"If I can compliment my own team humbly, to have that tough loss, especially the Game 6 and not have a pity party and come back this year and get back to the same position, I think that's fortitude."
It's the league's first Finals rematch since Chicago and Utah played in 1997 and 1998.
The teams have actually played three times since last season's classic series ended, twice in the regular season, another being a preseason meeting in Miami, where the Spurs acknowledged that the pain of losing Game 7 on that floor was still real.
Then again, it's almost like they wanted to feel that hurt at times. Popovich showed the Spurs clips of Games 6 and 7 early in training camp this season, not so much to open old wounds but rather speed up the healing process.
"We were just trying to put it away, just get over that part of it, learn from it, and move forward from there," said Duncan, a champion in 1999, 2003, 2005 and 2007.
Move forward, they did.
San Antonio won 62 games in the regular season, the best record in the league. One of those wins was a 24-point romp over Miami, on the same floor where the Finals will start on Thursday.
The Heat know what wanting revenge feels like. They lost the 2011 championship to Dallas, then opened the following season on the Mavericks' floor and simply blew them away.
"It hasn't really hit us that much yet because we're in it," James said Friday night after Miami beat Indiana and clinched its fourth consecutive East championship."
(China Daily 06/03/2014 page23)