McIlroy says he had second thoughts after wedding invites were sent out
A glum-looking Rory McIlroy admitted it would be tough to focus on golf at this week's BMW PGA Championship after calling off his engagement to tennis player Caroline Wozniacki on Wednesday.
Just days after sending out invitations to their planned wedding, the 25-year-old Northern Irishman said he was not ready for marriage.
"There is no right way to end a relationship that has been so important to two people," the twice major winner said in a statement on the eve of the European Tour's flagship event at Wentworth.
"The problem is mine. The wedding invitations issued at the weekend made me realize I wasn't ready for all that marriage entails.
"I wish Caroline all the happiness she deserves and thank her for the great times we've had."
The couple, known as 'Wozilroy' to fans, announced their engagement on Twitter in January when McIlroy proposed following a New Year's Eve fireworks show in Sydney.
World No 10 McIlroy, looking clearly distraught, told a news conference later on Wednesday that he never had any thoughts of withdrawing from the 60th anniversary edition of the Wentworth event.
"I'm not going to lie," he said. "It's going to be really difficult but when I get inside the ropes I'm going to have to try and concentrate on the matter in hand.
"I made a commitment to be here and I thought my duty was to play in this event," said McIlroy who had been in a relationship with Denmark's 23-year-old former world No 1 Wozniacki for 2 1/2 years.
"Obviously it's quite a difficult time for Caroline and myself and I think the statement really said it all this morning. It was mutual and we both thought it was the best for both of us.
"It's time to move on and I think I've said all I need to say. I just want to get my head into golf this week and concentrate on the tournament and try and do well.
"I've been playing well and the form's been good. I want to dive straight into it and keep myself somewhat busy and just try and have a good week on the course."
Brief smile
One reporter tried to lighten the mood at the news conference by suggesting McIlroy was at least returning "to a golf course that you love".
Laughter broke out around the room and the Northern Irishman produced a brief smile before pulling down his cap and covering his face with his hands.
Media reports seven months ago suggested the pair had ended their relationship but neither party confirmed the breakup.
Last year was a troubled one all round for McIlroy who suffered a slump in form after ending his equipment contract with Titleist.
He started 2013 as No 1 in the world rankings and in January signed a 10-year contract with Nike that, according to media reports, is worth $250 million.
McIlroy was also involved in a lengthy legal dispute after splitting from his management team and was embroiled in a disagreement with American sportswear company Oakley.
The Northern Irishman, winner of the 2011 US Open and 2012 US PGA Championship, has missed the cut at the BMW PGA Championship in three of the past six years and is looking to improve that record this week.
"This is a beautiful golf course and I've got great memories of the place from watching the World Match Play here in the early 2000s as a kid," he said.
"I'm trying to go in this week with the mindset of not getting frustrated and not to be frustrated that I might only get to hit my driver two or three times a round and feel like the advantage of my length is taken away from me.
"I'm just going to try and accept that you've got to plot your way around this course and not be overly aggressive ... just sort of rein it in a little bit," said McIlroy.
"It's a great event. This tournament deserves the best players and the best field and it gets that. Hopefully I can put in a performance that's a little better than it has been the last few years."
TIGER IS A GREAT DAD, SAYS EX-WIFE NORDEGREN
The ex-wife of Tiger Woods said she has a good relationship with the golfer and called him a "great father" in her first media comments on their relationship since their marriage was dissolved four years ago after his serial cheating.
Elin Nordegren, 34, told People magazine in an interview published on Wednesday she has put Woods' publicized affairs in the past.
"I have moved on, and I am in a good place," Sweden-born Nordegren said. "My relationship with Tiger is centered around our children, and we are doing really good - we really are - and I am so happy that is the case. He is a great father."
Woods, 38, and Nordegren divorced in 2010, less than a year after his string of at least a dozen affairs came to light in one of the biggest sex scandals in the world of sports.
The revelations tarnished the highly-crafted image of Woods, one of the world's richest and most popular athletes, costing him 10 of millions of dollars in endorsements at the time and providing months of fodder for tabloids.
The couple have two children - daughter Sam, six, and son Charlie, five - and live near each other in Florida.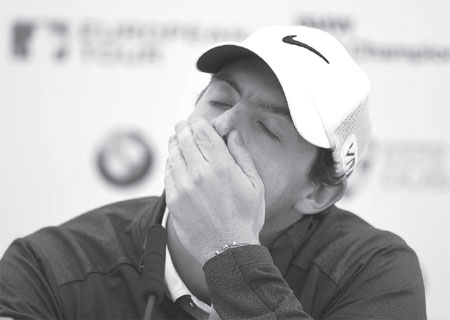 Rory Mcllroy looks glum at a media conference during the pro-am at the BMW PGA Championship at the Wentworth Club, Surrey, on Wednesday. Only a few days after sending out wedding invitations, golfer McIlroy broke off his engagement to Danish tennis player Caroline Wozniacki. Adam Davy / Associated Press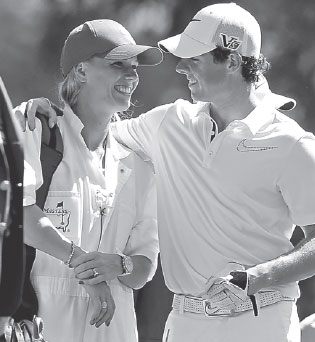 Rory McIlroy hugs his caddie, tennis player Caroline Wozniacki, during the par-three competition before the Masters in Augusta in April last year. Darron Cummings / Associated Press
(China Daily 05/23/2014 page24)