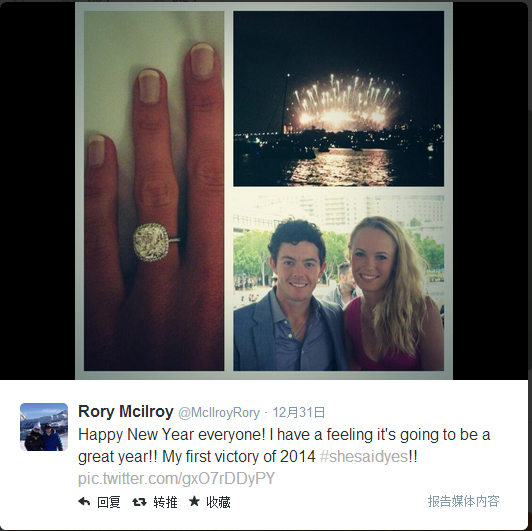 DUBLIN - Rory McIlroy has broken off his engagement to tennis player Caroline Wozniacki only days after sending out wedding invitations.
The two-time major champion says "the problem is mine. The wedding invitations issued at the weekend made me realize that I wasn't ready for all that marriage entails."
The 25-year-old McIlroy is a former top-ranked golfer who won the US Open in 2011 and the US PGA Championship in 2012. Wozniacki, 23, has also been ranked No 1 in her sport but never won a Grand Slam title.
McIlroy says, "I wish Caroline all the happiness she deserves and thank her for the great times we've had."
They have been dating since 2011, and got engaged a few months ago on the past New Year's Eve.
The engagement was announced to a million Twitter followers, much to the delight of their fans.
"Happy New Year everyone! I have a feeling it's going to be a great year!! My first victory of 2014. She said yes!!" McIlroy wrote at that time.
Wozniacki, 23, posted a posted a Tweet at the same time that read: "Happy New Year everyone! Rory and I started 2014 with a bang! ... I said YES!"
Wozniacki, who was the 14th in the latest WTA rakings, had earlier this month expressed her wish to settle down and have children, stating to a Danish magazine that she wanted to be a young mother and that she hoped that would happen not "too far in the future".
McIlroy, who has dropped to the 10th in pro-golf rankings, said he hoped the split would not affect his performance in the coming European PGA championship next week.
"I just want to get my head into golf and concentrate on the tournament and try and do well," he said.