Young people in Nanjing celebrated the 100-day countdown for the 2014 Youth Olympic Games with a ceremony on May 10.
In the day-long event, Executive Vice President and Chairman of Coca-Cola Greater China David G. Brooks unveiled the Coca-Cola Youth Olympics logo together with Liu Yi'an, executive vice-mayor of Nanjing and deputy secretary-general of the Games' organizing committee.
Throughout more than 80 years of partnership with the International Olympic Committee, Coca-Cola has been promoting the Games' logos with inspirational designs. The year's composite logo uses both traditional Chinese and contemporary elements: combining a banner that in Chinese tradition symbolizes bravery, victory and glory with a "chat bubble" icon of the Internet age.
"This logo perfectly implies the unlimited possibilities of the millennial youth," Brooks said.
"With passion and inspiration, with the cross-over of traditions and innovations, they desire to release their true selves and reach higher. The logo also demonstrates collectiveness, equality and the 'everyone is a winner' ethos of the Youth Olympic Games."
According to a press release from Coca-Cola, more than 100 Youth Games pins will be introduced in the next three months as part of the Coca-Cola pin trading tradition during international sports events.
The first batch of winners in the creative competition "The Youth Olympic Games in My Dreams" that started two years ago received certificates from the committee representative.
"This 100-day countdown further passes the passion and theme for the upcoming Youth Olympic Games. We are here to share the games and to share our dreams", said Xu Chuande, deputy secretary-general of the committee.
"Beyond a quest for sports, the Youth Olympics provides a remarkable cultural and educational platform for young people to be connected. I sincerely look forward to more young people joining us, forging new friendships and releasing your potential. Your limit is the sky."
The event hit a peak when pop singer Chang Shilei belted out the song Youth, one theme songs for the games.
As one of the composers of two different Youth Olympic Games anthems, Chang said it was an honor to do his part for the games.
"My role to write songs for the Youth Olympic Games is a good treasure for my long and lonely road of music career. It definitely will serve as a driving force in my creative work as a composer - to achieve more and live life to the fullest."
zhuanti@chinadaily.com.cn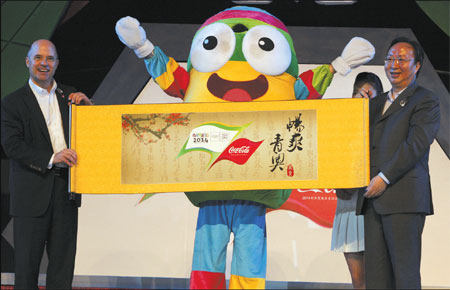 Executive Vice-President and Chairman of Coca-Cola Greater China David G. Brooks and Liu Yi'an, executive vice-mayor of Nanjing, at the ceremony to start the 100-day countdown to the games in Nanjing. Provided to China Daily