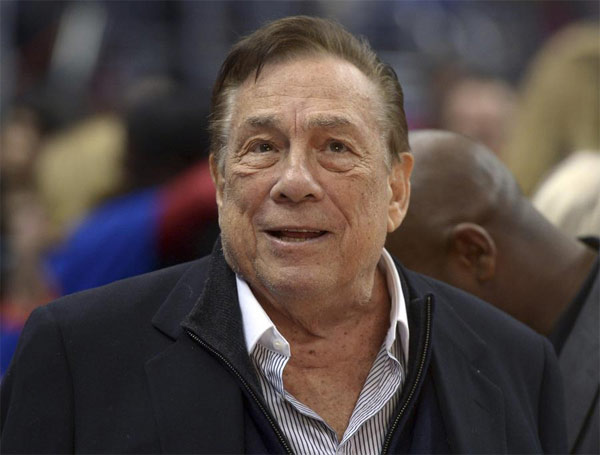 Los Angeles Clippers owner Donald Sterling attends a game against the Los Angeles Lakers at Staples Center in Los Angeles, California in this January 10, 2014 file photo. [Photo/Agencies]
NEW YORK - The National Basketball Association banned Los Angeles Clippers owner Donald Sterling from the game for life on Tuesday and fined him $2.5 million for racist comments that drew outrage from players, fans, commercial sponsors and even President Barack Obama.
Sterling, the longest-tenured owner of any of the 30 NBA teams, will be barred from any role in the operations of his team or be able to serve as one of the league's governors, NBA Commissioner Adam Silver told a news conference in New York.
Silver also urged the other owners to vote to force Sterling to sell the Clippers, a move that would require approval of three-quarters of the current owners.
Asked whether Sterling could end up as essentially an absentee owner if the league fails to force a sale of the team, Silver replied, "I fully expect to get the support I need from the other NBA owners to remove him."
The controversy began over the weekend when the celebrity website TMZ.com released an audio recording with a voice said to be Sterling's criticizing a woman friend for associating with "black people." The recording included Sterling asking his friend not to invite former Los Angeles Laker star player Earvin "Magic" Johnson to games.
"The views expressed by Mr. Sterling are deeply offensive and harmful," Silver told reporters as he confronted his first major crisis since he was named commissioner in February.
An investigation concluded the male voice on the recording, and on a second recording said to be from the same conversation and made public on Sunday, was Sterling's, Silver told reporters. He said Sterling confirmed it was his voice but did not apologize.
"He has not expressed to me directly any other views," Silver told reporters as the NBA responded to an uproar in a league that was at the forefront of racial integration in US professional sports and where most of the players are black. Obama, the first black US president, called Sterling's comments "incredibly offensive racist statements."
Sterling could not be reached for comment on Tuesday.
LEGAL OPTIONS
It was not immediately clear whether Sterling would seek to challenge the ban in court. But lawyers with expertise in sports law gave him little chance of successfully suing the NBA.
"Having agreed to the NBA constitution and bylaws, I think courts will generally make him adhere to the agreement that he freely entered into," said Jeffrey Kessler, a partner with the Winston & Strawn law firm and outside council to the NBA Players Association.
Nathaniel Grow, a University of Georgia assistant professor who studies sports law, agreed, saying the NBA commissioner is "almost like a judge and executioner, and whatever he says goes."
Meanwhile, the decision to ban Sterling drew praise from around the league. The Clippers said in a statement that the team "wholeheartedly" supports the NBA's move, and members of the cross-town rival Los Angeles Lakers joined Mayor Eric Garcetti at a news conference in a show of support for Silver.
"I want to personally thank Commissioner Silver for bringing down the hammer, for being as strong as he could be," Garcetti said. "You might be able to buy a team, but you don't own this city. This is our town."
Sacramento Mayor Kevin Johnson, a former NBA player himself now serving as a special adviser to the NBA Players Association, also hailed the move. "Adam Silver is not only the owners' commissioner, he is also the players' commissioner, and we're proud to call him our commissioner," Johnson said.
Civil rights leader the Rev. Jesse Jackson praised Silver for having "handled this matter emphatically and decisively." He said the banning of Sterling "lays the groundwork for defining a threshold for racist conduct."