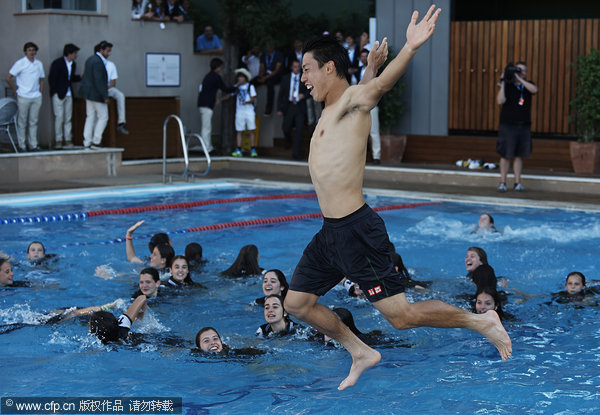 Kei Nishikori of Japan celebrating his victory into the club's pool after his victory against Santiago Giraldo of Colombia after day eight of the ATP Barcelona Open Banc Sabadell at the Real Club de Tenis Barcelona on April 27, 2014 in Barcelona, Spain. [Photo/cfp.cn]
BARCELONA - Japan's Kei Nishikori beat Colombia's Santiago Giraldo 6-2, 6-2 on Sunday at Barcelona Open, becoming the first non-Spanish champion in 12 years at the Real Club Tenis Barcelona.
Giraldo started well but soon the 24-year-old Nishikori won eight straight games and finally took control, winning the title after 73 minutes playing.
This was the first career title on clay for Kei and his second title of the year after winning in Memphis.
According to sources from the tournament Nishikori earned 422,100 euros in prize money and 500 ATP points, ascending five spots to No. 12 in the world.
He said after the match that he was "very comfortable" playing.
"I was a little bit tired in the beginning but then I felt more confidence and I played better and better," he explained.
Nishikori said he was "surprised about the win because Japanese players are usually not good on clay". He played for the first time on clay when he was around 12 years old and now aims to get to the top 10 as this success helped his confidence.
This was the first time a non-Spaniard has won the Barcelona Open Banc Sabadell Tournament of Godo in 12 years. Rafa Nadal had won this tournament eight times, the last one last year.