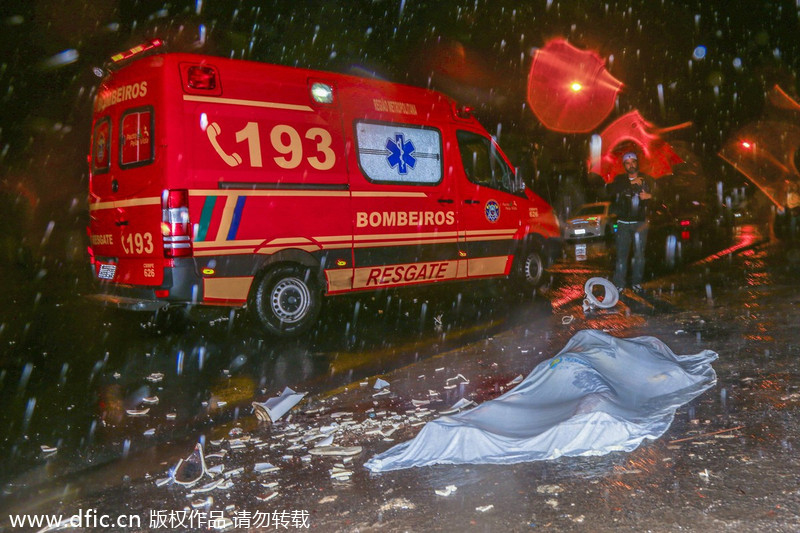 The wrapped body of Paulo Ricardo Silva, 26, a soccer fan who was killed in clashes between fans, lies on a street outside Arruda stadium after a soccer match between Brazilian soccer teams Parana and Santa Cruz, in Recife, northeastern Brazil, May 2, 2014. Ricardo Silva was killed outside the stadium late on Friday when he was hit by a toilet bowl thrown from the stands, according to local media. News site globoesporte reported that the incident occurred after Recife club Santa Cruz drew 1-1 with visitors Parana in a second division match. There were clashes outside the Arruda stadium and fans ripped toilet bowls out and threw them at rivals on the streets below. [Photo/icpress.cn]
SAO PAULO - A Brazilian football fan was killed when he was struck in the head by a toilet bowl hurled from stadium stands as supporters of rival clubs clashed in the northeastern World Cup host city of Recife, police said on Saturday.
Also this weekend, authorities detained more than 40 people because of fan fighting outside the stadium that will host World Cup matches in the nearby city of Natal.
A police officer in Recife said the death occurred on Friday at Arruda Stadium after a second-division match between Santa Cruz and visiting Parana. He spoke on condition of anonymity because he was not authorized to speak to the press.
The officer said fans ripped three toilet bowls out of stadium restrooms and threw them from the stands. He said one hit and instantly killed a fan he identified as Paulo Ricardo Gomes da Silva.
The incident comes six weeks before Brazil hosts the World Cup. Five tournament games will be played in Recife, although none at the Arruda. The city will host World Cup matches at the new Arena Pernambuco.
The Brazilian football federation said it was "preventively closing" the Arruda until authorities finish their investigation and a sports tribunal makes a ruling on the case.
In Natal, fans clashed before a match between rival clubs ABC and America in a test event at the Arena das Dunas on Saturday.
Police officer Roberto Andrade told the UOL website that the fighting began when a small group of America fans crossed into the path of ABC supporters on their way to the stadium. The ABC fans went after the rival group, throwing rocks and pieces of wood at them until officials intervened.
Andrade said fans from both clubs were detained and taken to a police station for interrogation.
The match marked the only official test event at the Arena das Dunas before the World Cup in June. The stadium will host four tournament matches.
Violence involving fan groups are common in Brazil, and the number of incidents escalated last year.
FIFA and Brazilian authorities have downplayed concerns about violence inside stadiums during the World Cup, saying security will be heightened and such incidents were related mostly to club matches.


Related Stories:
FIFA concerned about Brazil violence