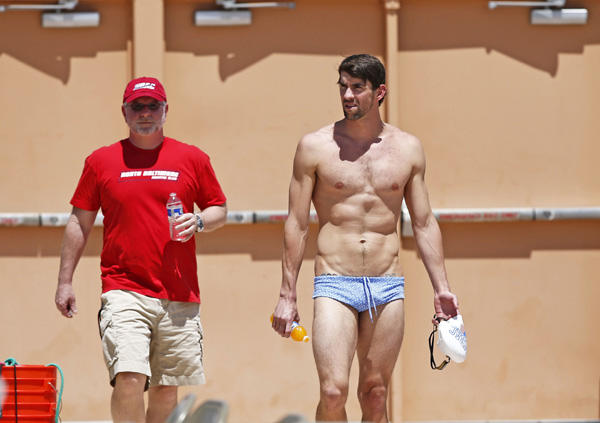 Michael Phelps arrives with his coach Bob Bowman for his first official practice session for the Arena Grand Prix swim meet at Skyline Aquatic Center.  [Photo/Agencies]
Michael Phelps has been swimming against the tide all his life. Time and time again he has proved the doubters wrong, setting the standard for Olympic achievement with his 18 gold medals.
But now, almost two years after retiring from swimming and two months shy of his 29th birthday, the American is plunging into uncharted waters by attempting a comeback where the risk-reward ratio is heavily stacked against him.
If all goes well, Phelps could be back on the podium at Rio, although he insists he is still undecided about whether he wants to go to the 2016 Olympics.
If it goes wrong, he will join a long list of great athletes who were lured back to competition but failed to reproduce the form that took them to the top of their chosen sports.
Phelps' legacy is already assured. Nothing he does in the future will take away from what he did in the past, but as Muhammad Ali, Mark Spitz, Michael Jordan, Bjorn Borg and Michael Schumacher all discovered, failure can still become a permanent footnote.
Phelps has not yet given a full explanation for his decision to come back or his plans for the future. That will come on Wednesday when he and longtime coach Bob Bowman face the media before the April 24-26 Grand Prix meet in Mesa, Arizona, where he will make his return.
Phelps has already amassed a fortune through endorsements, so money is unlikely to be the driving motivation to get him back in the pool for the grueling training required to be an Olympic swimmer.
Nor is he likely to top his past achievements, so anything he does is likely to be less than before. He won six gold medals at Athens in 2004 and an unprecedented eight at Beijing in 2008 when he was at his absolute peak.
At the 2012 London Games he won four gold, and by the law of diminishing returns would be hard-pressed to match that in Rio, when he will be 31 - past the age when most elite swimmers have hung up their goggles, but not too old to be totally discounted.
At the Athens Olympics, Inge de Bruijn of the Netherlands won the women's 50-meter freestyle gold just days before her 31st birthday.
Four years later in Beijing, Jason Lezak teamed up with Phelps to win gold in the 4x100m freestyle relay at 32, while Dara Torres won three silvers at the 2008 Games at age 41.
For Phelps, his biggest asset is his physique and perfect technique. He stands 6 ft, 4 in, and has a wingspan of 6 ft, 7 in, giving him greater pulling power in the water.
But the natural evolution of swimming looms as his biggest obstacle. Even if he can match his best times, his younger opponents are getting faster all the time.
This week's meet will offer few real clues to what Phelps might do in Rio, if he were to go that far.
He has deliberately picked a relatively light program of three races: 100m freestyle, 100m butterfly and 50m freestyle.
"It's just a start," Bowman said last week.
The first big test for Phelps will come in August when the US national championships - which double as the trials for next year's world championships in Russia - are held in California.
Then in the spring of 2016, the US Olympic trials will take place in Omaha, Nebraska.
Phelps only needs to finish in the top six in either the 100m or 200m freestyle at the Olympic trials to make the relay team and, if he did, he would have a realistic chance of adding to his collection of medals.
For mere mortals, that would be a lifelong achievement. But Phelps is likely to want to swim at least one individual event - possibly the 100m butterfly - which would also secure him a place on the medley relay and a chance at four golds in Rio.