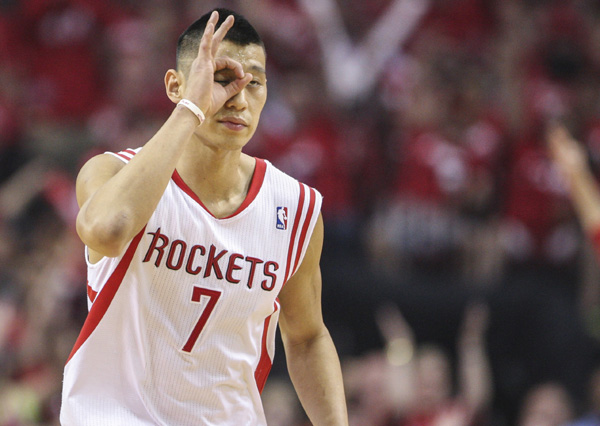 Houston Rockets guard Jeremy Lin (7) celebrates after scoring during the first quarter against the Portland Trail Blazers in game one during the first round of the 2014 NBA Playoffs at Toyota Center.
  [Photo/Agencies]
NEW YORK - The Houston Rockets continued to soar in China this year as the viewership of Rocket's first playoffs game on Sunday was more than double the number of viewers who tuned in on average to live regular season action on Guangdong TV this season, the National Basketball Association (NBA) announced on Tuesday.
The Rockets, the team that Chinese center Yao Ming played before he retired, are still the beloved team of the Chinese fans as they got 147 percent viewership from Guangdong TV, and 128 percent from Chongqing Satellite, which was also double the viewers of the regular season, according to a statement of the NBA.
For fans going online to view the games on sina.com, average viewership of the Rockets-Trail Blazers increased nearly a 100 percent (93%).
According to baidu.com, the popular search engine in China, the NBA is the No. 2 most popular topic overall in the country, while Jeremy Lin of the Rockets ranks No. 4 overall among the most popular athletes followed by NBA legends Michael Jordan, Yao Ming and LeBron James of the Miami Heat.