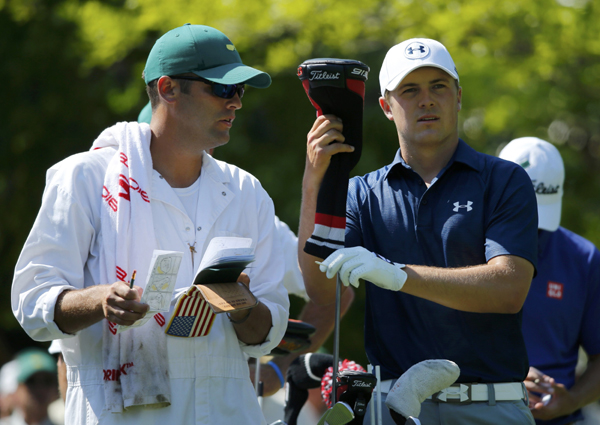 Jordan Spieth prepares to tee off on the seventh hole during Saturday's third round of the Masters. Mike Blake / Reuters
Veterans laud Spieth's mature performance
Jordan Spieth may be just 20, but he's rated an extraordinary talent by his peers.
Spieth belied his tender age by shrugging off what he described as "crazy fast greens" to shoot a two-under-par 70 in Saturday's third round at Augusta National to join fellow American Bubba Watson in a share of the lead at 211, five under.
Watson, former winner Fred Couples and world No 7 Matt Kuchar all believe the debutant has what it takes to land the coveted green jacket and surpass Tiger Woods, who was 21 when he picked up the first of his four Masters crowns in 1997.
"He is young and nerves are no big deal to him," 2012 champion Watson said. "He is a great player and a guy like that, he obviously has no fear.
"He is like a veteran, he started out at 15, I think, at tournaments like the Byron Nelson Classic and stuff. He is special ... and he's such a great putter."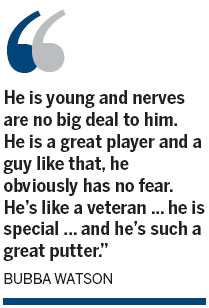 Watson's Ryder Cup teammate Kuchar, who registered a third-round 68 to lie one stroke off the pace on 212, referred to Spieth as "pretty amazing".
"You see the likes of Fred Couples doing well and you chalk it up to a guy with a lot of experience playing this golf course," said Kuchar.
"So it is even more amazing to see what a young guy like Jordan Spieth is doing. It is pretty amazing for a first-timer."
At the other end of the scale, veteran Couples retains outside hopes of becoming the oldest major winner of all time at the age of 54.
The 1992 Masters champion also believes Spieth is an outstanding young talent.
"He' i a qualified player at the age of 20," said Couples after carding a third-round 73 to sit at one-under 215.
"When you're that kind of a player, you can play well anywhere. He hits the ball long and high, but for a 20-year-old he is pretty savvy."
Spieth, who qualified for the Masters by winning his maiden PGA Tour title at the John Deere Classic in Illinois in July, was thankful for some advice he received from 18-time major winner Jack Nicklaus and double Masters champion Ben Crenshaw.
"Mr Crenshaw was very helpful at a dinner here on Wednesday," said the youngster.
"I also had a little talk with Mr Nicklaus and he helped me out a lot too.
"Those guys are pretty good guys to learn from. I don't really want to get into specifics about what they said but yeah, they helped with certain things."
Speith said the lightning-quick greens and tricky pin placements made conditions particularly tough on Saturday.
"We realized early on how difficult this golf course was going to play today," he said after mixing four birdies with two bogeys. "There were front pins that you really couldn't stay below.
"It was almost like putting on rolling gravel. It was like the ball was picking up speed even as it went by the hole.
"It was crazy, crazy fast out there. I've never putted on greens like that before."