Timothy Bradley Jr. believes a lengthy and successful career has sapped Manny Pacquiao of his motivation and that their WBO welterweight title bout on Saturday may be one fight too many for the Filipino legend.
"I think he may lack fire," the American told journalists in Las Vegas.
"His motivation is not there. He has been at the top for a very long time. He has over 60 fights in the ring with all the best. He is 36 years old. Maybe this is one fight too late for him."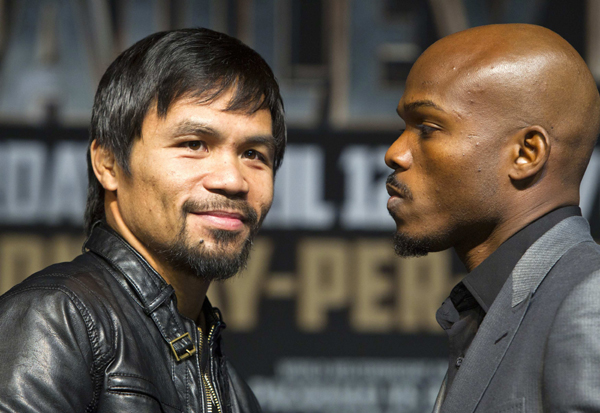 Manny Pacquiao (left) and undefeated WBO welterweight champion Timothy Bradley Jr. pose during a news conference at the MGM Grand Hotel and Casino in Las Vegas on Wednesday. Steve Marcus/Las Vegas Sun/Reuters
Bradley (31-0, 12 KOs) is defending the WBO belt he won from Pacquiao in a controversial fight in June 2012. Most ringside observers felt Pacquiao won comfortably, but after 12 rounds Bradley was awarded a split-decision victory.
In the aftermath, Bradley says, fans aimed their anger at him.
"I got letters from fans belittling me like crazy, telling me I am not a true champion," he said, adding that he also received an anonymous death threat in the mail.
"It is really hard to swallow. That night, man, I did my job. I thought the fight was very close. I thought the decision could go either way. But the fact that they gave it to me - I thought it was fair."
If the winner's experience in the aftermath was negative, the man who officially lost the fight seems to be at ease with what happened.
"In this sport, sometimes you are on the winner's side, sometimes you are on the loser's side, so you have to prepare for that," Pacquiao said at the MGM Grand in Las Vegas, where the fight will take place.
"I never complain. In boxing, it is part of the sport. If you don't want to lose, then don't fight."
But Pacquiao (55-5-2, 38 KOs) is facing questions as the rematch approaches. He has not scored a knockout since stopping Miguel Cotto in November 2009 and was himself knocked out at the end of the sixth round by Juan Manuel Marquez in his first outing after the Bradley fight.
Pacquiao professes to be unconcerned by his recent knockout drought, asserting he was on the verge of stopping Marquez until walking into a right hand from the Mexican.
"If he didn't get me in six rounds, by seven rounds I could have finished him," he said. "But by being careless, that is what happened."
Besides, he argued, "if the knockout comes, it comes, but my focus is to be aggressive and throw a lot of punches and make the fans happy".
Bradley, on the other hand, is confident that this time he is the one who will be making fans happy.
"I know this is my time," he said. "It is my time, it is my moment."