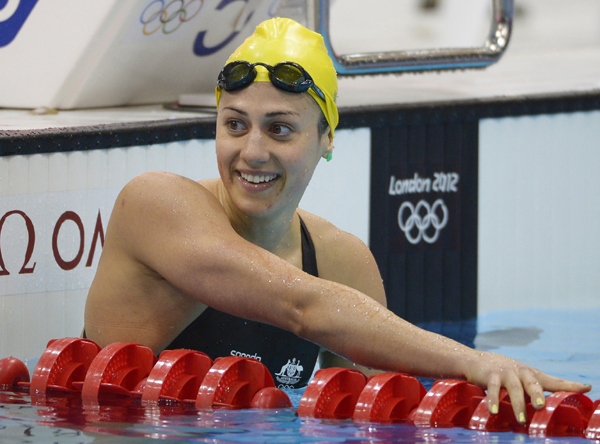 Australia's Stephanie Rice smiles after competing in a 200m individual medley heat at the Aquatics Centre in the Olympic Park during the 2012 Summer Olympics in London. Triple Olympic champion Rice officially retired from competitive swimming on Wednesday. Mark J. Terrill / Associated Press
Triple Olympic champion planning for life outside pool
Stephanie Rice, who retired on Wednesday at the age of 25, managed some golden Olympic moments in an eight-year swimming career cut short by continuing shoulder problems.
Along the way, there was also some controversy.
At the top of her achievements were three gold medals at the 2008 Beijing Olympics - two of them in the individual medleys over 200 and 400 meters in world record time. She also won gold with the Australian 4x200-meter freestyle relay team, again in a world record.
She has not competed since the 2012 London Olympics, where shoulder surgery just before the Games ended any chance she had of reaching the podium.
"I really didn't want to make a rash decision on my career, and if I was going to keep swimming or not because I was still too emotional about the whole preparation that I had just been through," Rice said on her website on Wednesday.
"I felt a lot of pressure to live up to everyone's expectations and fulfill their answers, but I knew I had to take the time for myself to get to the point where I knew 100 percent what I wanted to do."
After Beijing, Rice became a celebrity, topping a newspaper poll as Australia's most recognizable Olympic athlete, and maintaining an even higher profile in fashion shoots and on her Twitter account.
In September 2010, Rice was criticized for using an offensive word about gay men when tweeting about a rugby union match between Australia and South Africa. Rice removed the remarks and apologized, but not before one of her sponsors, a luxury automobile manufacturer, ended its association with her and asked for the car back.
She was also romantically involved with fellow Australian swimmer and former 50-meter world record holder Eamon Sullivan. Their long-distance relationship - Rice in Queensland state with her long-time coach Michael Bohl in Brisbane, and Sullivan in Western Australia - was often fodder for media gossip two years before they split up just before the 2008 Olympics.
In the pool, she was much less controversial and more impressive: Rice's first major international event was at the 2006 Commonwealth Games, where she won gold in both individual medleys. She also has two silver and five bronze world championship medals after first joining the Australian swim team as a 17-year-old.
The beginning of the end of her swim career came in December 2011 when she underwent surgery to repair a torn tendon in her right shoulder. With plenty of physiotherapy and cautious training, she won both IMs at the Australian trials four months before the London Games, but the shoulder failed to hold up to more rigorous training ahead of the Olympics.
"Steph has been wrestling with this since London," Bohl said on Wednesday in a telephone interview with Associated Press.
"She couldn't get the best out of herself there, but with what she endured, she didn't want to retire with question marks. She wanted a year or two to think about it."
Swimming Australia president John Bertrand praised Rice, who became the third Australian swimmer after Shane Gould and Ian Thorpe to win three gold medals at the same Olympics.
"To win one Olympic gold medal is hard enough, but to win three at the same Games is a fantastic achievement and something that will forever be remembered within the sporting fabric of this nation," Bertrand said.
Rice didn't say what she plans to do next, only that she intended to "prove myself out of the water".
She has been involved in fashion work in the past, and last year won the third season of The Celebrity Apprentice Australia reality television show.
"I definitely feel like I am losing a part of myself but I am really excited about what is to come," she said.
Bohl, who said he hasn't seen Rice swim since London, thinks his former star pupil will be successful whatever she decides to do.
"We always say to the kids, 'This is just the first third of your life, and you have a lot more years ahead of you'," Bohl said on Wednesday. "I am sure whatever she tackles, she will do it well, just like she did in the pool."