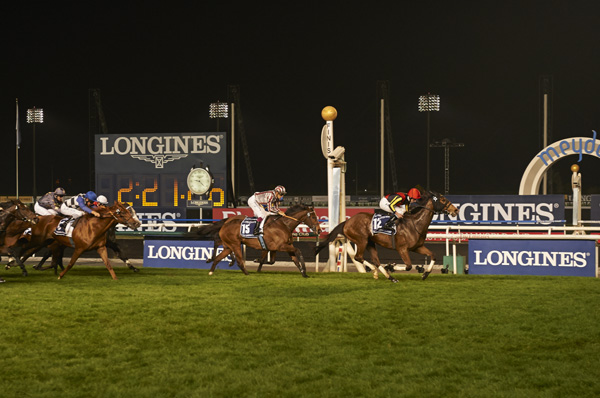 Ryan Moore riding Gentildonna leads the field to win the Dubai Sheema Classic presented by Longines. The race is open to thoroughbreds 4-years-old and over. With a purse of $5 million, it is one of the highest-paying turf races in the world. [For chinadaily.com.cn] 
By 4 pm on March 29, the 7.5-million-square-meter Meydan Racecourse, located 5 kilometers southwest of Dubai's city center, had seen a caravan of limousines, luxury vans and limo buses, dropping off tuxedo-clad men and women wearing delicate dresses, who were more than willing to be photographed and complimented on their clothing and appearance.
Inside, the free public enclosures had been packed since hours earlier by solid groups of men in white robes, or dishdashas, and women in black gowns, or abayas, in separate areas. Carpets and tablecloths were spread wherever possible for a six-hour picnic, in a carnival atmosphere.
At 4:30 pm , as helicopters hovered above the racecourse offering a "bird's eye view" for spectators not satisfied with a seat in an exclusive suite with free flowing champagne and hard-at-work air conditioning, the world's richest horse race, the 19th running of the Dubai World Cup, began.
An estimated 50,000 spectators filled the racecourse to its brim this year, despite the course boasting a grandstand larger than many airport terminals.
Ticket prices began at AED 25 ($6.80) and climbed to AED 5,150 for an assigned seat, afternoon tea, gourmet snacks, soft drinks and standard house beverages. Those planning to attend a post-race concert by Jennifer Lopez, who was invited to "close the carnival", shelled out extra hundreds of Emirati dirhams.
Initiated in 1996 by Sheikh Mohammed bin Rashid Al Maktoum, vice-president and prime minister of the UAE and the ruler of Dubai, the annual Dubai World Cup grew rapidly from a local event to an international sporting and social occasion for top international horse breeders, trainers and jockeys, partly thanks to its generous prizes, sponsored by companies including Swiss luxury watchmaker Longines and UAE real estate company EMAAR .
While UAE residents and Westerners still make up the lion's share of participants and spectators, the race on turf is also seeing a growing number of participants from East Asia in recent years. And they are winning already.
Australian thoroughbred Amber Sky finished the 1,000-meter Al Quoz Sprint in a record-breaking 56.23 seconds. The 4-year-old was ridden by jockey Joao Moreira, and is owned by Hong Kong kung fu star Hung Kam-po and trained by Ricky Yiu, also from Hong Kong.
Japanese horses dominated the two major races.
Two-time Japan Cup champion Gentildonna took home another trophy in the Dubai Sheema Classic, with its 5-year-old compatriot, Just A Way, having just outpaced 12 rivals in the 1,800-meter Dubai Duty Free.
Not only are more East Asians attending and winning the races, but organizers have decided to extend the event further, beyond the emirate, to "offer a stage" of both "spectacle and achievement" to their Asian neighbors.
They have their eyes on China, the world's second-largest economy.
On April 6, the first horse racing meet in China with licensed horses from all over the world was held in Chengdu, Sichuan province, by Dubai-based Meydan Group, organizer of the Dubai World Cup, in partnership with the Chengdu government.
The amount of prize money in Chengdu may be slight compared to that of the Dubai race, but some industry insiders believe the collaboration between the two Asian countries will lead the future of the global equine industry, especially with the long tradition of horse ownership and racing in China.