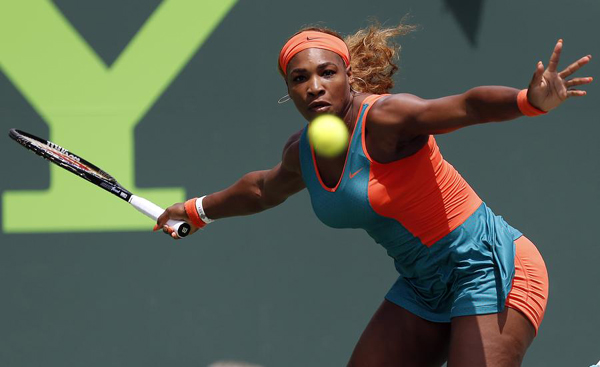 Serena Williams hits a forehand against Maria Sharapova on day eleven of the Sony Open at Crandon Tennis Center, Miami, March 27, 2014. [Photo/Agencies]
KEY BISCAYNE, Florida - Serena Williams beat Maria Sharapova for the 15th consecutive time, rallying in both sets for a 6-4, 6-3 victory in the Sony Open semifinals on Thursday.
Williams, seeking a record seventh Key Biscayne title, improved to 16-2 against Sharapova and hasn't lost to her favorite foil since 2004.  
The No 1-ranked Williams won with a superior serve and better returns. She hit nine aces and broke five times, helping her rebound from deficits of 4-1 in the first set and 2-0 in the second.
"I wasn't playing my best," Williams said. "I knew if I wanted to stay in the tournament and make another final, I just had to play better."
Williams earned her 14th consecutive victory against a top-10 player. Her opponent in Saturday's final will be either Australian Open champion Li Na or Dominika Cibulkova of Slovakia.
Williams first won Key Biscayne in 2002 and is the defending champion. She has worn Miami Dolphins orange and turquoise throughout the tournament and considers it her home event because she lives 90 minutes up the road.
"When I grew up I always wanted to play here," she said. "I guess I just don't want to let go. It's my favorite stop on the tour. It's home. All my friends come. So it's perfect for me."
There was no evidence of a home-court advantage at the start, when Williams failed to convert four early break-point chances and fell behind. Sharapova cracked a succession of winners from the baseline and earned applause from Williams after besting her in one exchange.
But Williams broke back when Sharapova committed three consecutive backhand errors, and gained momentum from there, sweeping the final five games of the first set.
The story was similar in the second set, and after falling behind, Williams resorted to her dominating power. She quickly won one game with two aces and two service winners during a period when she swept 11 consecutive points.
Sharapova committed groundstroke errors on the final three points, and a victorious Williams trotted to the net, her left fist leading the way. She has more victories against Sharapova than against any other opponent.
"Despite my results against her, I still look forward to playing against her because you learn so much from that type of level which she produces," Sharapova said. "You finish the match, and you know where you need to improve and the things that you need to work on."