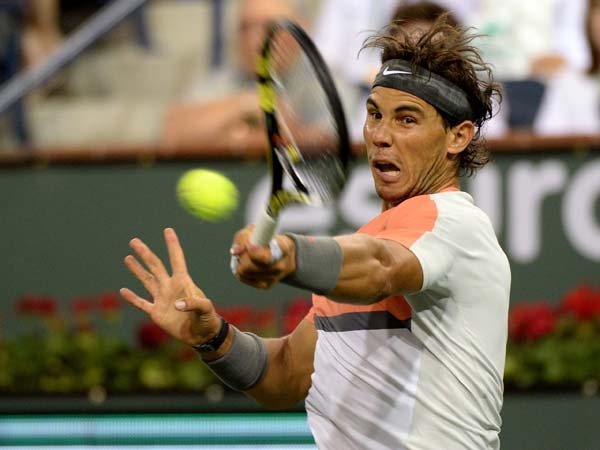 Rafael Nadal of Spain in his match against Alexandr Dolgopolov of Ukraine during the BNP Paribas Open at the Indian Wells Tennis Garden, Indian Wells, March 8, 2014. Dolgopolov won 6-3, 3-6, 7-6. [Photo/Agencies]
INDIAN WELLS, California - Defending champions Rafael Nadal and Maria Sharapova were upset in the third round of the BNP Paribas Open on Monday.

First, Sharapova went down to qualifier Camila Giorgi, 6-3, 4-6, 7-5, giving the young Italian her first victory over a top-five player. Then, Nadal followed on the main stadium court, losing 6-3, 3-6, 7-6 (5) to Alexandr Dolgopolov of Ukraine.

Nadal staged a furious rally in the third. He won three straight games, including a break of Dolgopolov, to tie it at 5. Both players held serve to send the match into the tiebreaker.

They slugged it out from the baseline accompanied by a noisy soundtrack, with fans yelling and cheering. Los Angeles Lakers star Pau Gasol watched nervously from Nadal's box. Nadal led 4-2 before Dolgopolov won three straight points to take a 5-4 lead. The Ukrainian hit two forehand winners and came up with a big service winner.

"I had enough breaks to win the match, but I didn't play enough well from the baseline then to be solid with my serve," Nadal said. "I didn't go for the points. I played with too many mistakes."

Nadal evened it at 5-all, but he hit the ball long to set up match point. Dolgopolov served what he thought was an ace, but it was called out. He challenged the call and it showed the ball barely missed tagging the T. Dolgopolov put his second serve into play and produced a cross-court forehand that the world's top-ranked player couldn't return.

"It's a moment for the people to be proud a little bit for someone from their country," Dolgopolov said, referring to the political upheaval going on between Ukraine and Russia. "It's good to make some results and make the people forget a little bit and have some happy moments in the news."

Dolgopolov had more errors (49) than winners (36).

Last month, Nadal defeated Dolgopolov to win the Rio de Janeiro title. The Ukrainian has risen quickly in the ATP Tour rankings, going from No 57 to 31 after a strong February, posting three wins against top-20 players in Rio and made the semifinals in Acapulco.