Chinese star shows improved power in triumph over Thai
Zou Shiming proved his trainer's version of the big bang theory on Saturday night in Macao - and it could lead to a shot at the world flyweight championship in November.
In the weeks leading up to Zou's paralyzing seventh-round KO of Thailand's Yokthong Kokietgym at the Venetian Resort's jam-packed Cotai Arena, Freddie Roach formulated a plan to force China's two-time Olympic gold medalist to punch with more power.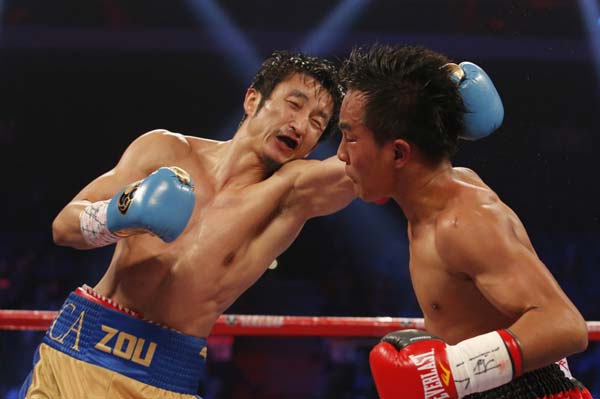 Chinese boxer Zou Shiming (left) delivers a punch to Yokthong Kokietgym of Thailand during their flyweight eight-round boxing match in Macao on Saturday night. Zou won with a KO in the seventh round. Dennis Ho / Associated Press
"All through training camp he kept beating up sparring partners that were the same size as him but I could see he was holding something back, so I figured he might as well work with bigger, stronger guys," said Roach.
"Maybe it was a bit of a risk, but at the very least we thought defending himself against bigger guys would make him to punch back harder, as well as throw his punches faster and straighter. It worked.
"If you go into a fight looking for a knockout it never comes ... but after the sixth round I told him to step up the pace and just see what happens. We are very pleased with the result."
Zou's first pro stoppage - via a textbook left hook that capped his third knockdown of Kokietgym - left the 19-year-old Thai stretched out on the canvas for several minutes. Earlier in the round, Zou hit the deck on a flash knockdown off a counter right that the referee didn't even bother to acknowledge.
"It is satisfying to get the KO but it was not something I was aiming for," said the 32-year-old Zou. "My main focus was just to follow Freddie's game plan and listen to his instructions. I wanted to set a good pace and throw combinations.
"To be honest, right now I cannot even tell you which hand delivered the KO punch. I would rate my performance as an eight out of 10; I still have many things to improve on."
Promoter Bob Arum said he would like to showcase Zou in his first 10-rounder on Top Rank's next card in Macao on May 31. Assuming he wins, Zou would likely have one more 10-round tune-up before challenging Thailand's Amnat Ruenroeng for his International Boxing Federation flyweight title in the fall.
"Zou's progress has been steady, but he' ha only had four pro fights," said Roach. "He made some nice adjustments in this one and showed real power by knocking out a kid who had only been stopped twice in 20 fights ... but we still have a long way to go before challenging for a title."
Undercard highlights:
Forget about pre-fight pasta and a full-sized ring - all Rex Tso needs for his next bout is an apple and a couple of square meters of canvas.
The Hong Kong southpaw captured the WBO Asia/Pacific junior bantamweight crown and vaulted into contention for a world title challenge with a devastating eighth-round KO of Japan's tough Mako Matsuyama.
But the real drama was provided by Tso's 30-hour starvation diet to make the 115-pound weight limit, and then his unorthodox decision to turn the fight into a close-quarters slugfest.
"Dropping the weight was not as difficult as it seems; I have gone through worse," said Tso, who shed 15 pounds in seven days. "The last little bit is always the hardest. I could not sleep at all because I only ate one apple in 30 hours before the weigh-in."
As for trading punches at such a furious pace with a opponent who went toe-to-toe until he was counted out, Tso, who improved to 9-0 with his sixth KO, said he wouldn't want it any other way.
"It was good that I didn't have to chase him ... I was happy he wanted to stand and fight," he said.
Hometown favorite Kuok Kun Ng - aka 'The Macao Kid' - moved to 3-0 with his first pro KO, a third-round stoppage of Indonesia's Rocky Alap-Alap.
"It is a great honor to fight in front of my home supporters and to bring a victory to China," said Kuok. "Getting a KO was my goal, and I am very happy I was able to accomplish it."
Eight of the nine bouts on the Ring of Gold card ended in knockouts, including 2014 Olympic gold medalists Ryota Murata of Japan (middleweight) and Egor Mekhontsev of Russia (light heavyweight) stopping Brazil's Carlos Nascimento (KO 4) and Thailand's Atthaporn Jaritram (KO 2) respectively.
The only bout that went the distance saw IBF lightweight champ Miguel Vasquez of Mexico (34-3) retain his title with a 12-round unanimous nod over Russia's Denis Shafikov (33-1-1).
murraygreig@chinadaily.com.cn