Thunder beat Rockets to take 3-0 lead in NBA playoff
Rockets suffer another heartbreaker, this time 104-101, to Oklahoma City.
The Houston Rockets have overcome big deficits to lead in the fourth quarter of each of their past two games against the Oklahoma City Thunder, only to lose both times.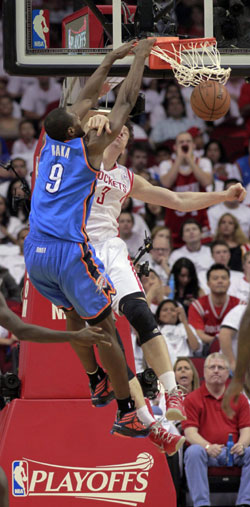 Oklahoma City Thunder's Serge Ibaka (left) of Congo dunks the ball as Houston Rockets' Omer Asik (right) defends during the second half of Game 3 of their NBA Western Conference quarter-finals basketball playoff series in Houston April 27, 2013.[Photo/Agencies]
Now the Rockets are left to wonder what could have been, and figure out a way to get back on track after falling behind 3-0 in the best-of-seven series with a 104-101 loss Saturday night.
Kevin Durant scored 41 points in his first game without injured All-Star Russell Westbrook, and the Thunder fought off Houston's late rally for the win.
"We've got to find a way to win these games," Houston's Chandler Parsons said. "We are learning a lot and doing a lot right now, but it is very frustrating that we should be up 2-1 right now but we are down 3-0."
Durant scored 27 points in the first half, and the Thunder led by 26 points before a big third-quarter rally by the Rockets put them within striking distance.
Houston regained the lead with about 4 minutes left, and was up with less than a minute remaining. But Durant hit a 3-pointer, which bounced off the rim before falling in, to put Oklahoma City on top 100-99.
"We didn't want to give up any 3s," Houston's James Harden said. "He just made a lucky shot. It was good defense. It just went in and took some of the energy out of us."
A turnover by Harden gave the Thunder the ball back and Derek Fisher made two free throws to push the lead to three. Harden made a layup, but Reggie Jackson hit two more free throws after that.
Houston had a last chance, but Carlos Delfino's 3-pointer fell short.
Harden scored 30 points for the Rockets in the first playoff game in Houston since 2009. The Rockets will be at home again for Game 4 on Monday.
He said they have to figure out a way to get going early on Monday.
"We have to have that energy from the beginning of the game to the end of the game," he said. "We can't have droughts. You have to play a solid game for 48 minutes."
Westbrook was injured in Game 2 and had season-ending right knee surgery on Saturday. It was the first time Durant had played a pro game without Westbrook, who hadn't missed a game in his career before Saturday.
Durant's 41 points equaled a playoff career high, and he also had 14 rebounds, four assists, two steals and a block. He sat down for just 44 seconds on Saturday.
"Kevin has done a great job of being a playmaker all season long," Thunder coach Scott Brooks said. "He's an amazing scorer, and he sets up a lot of guys to get easy buckets."
Most Popular
Highlights
What's Hot