Home / Sports / Motor news
Vettel breaks Ferrari's F1 drought with victory at Aussie GP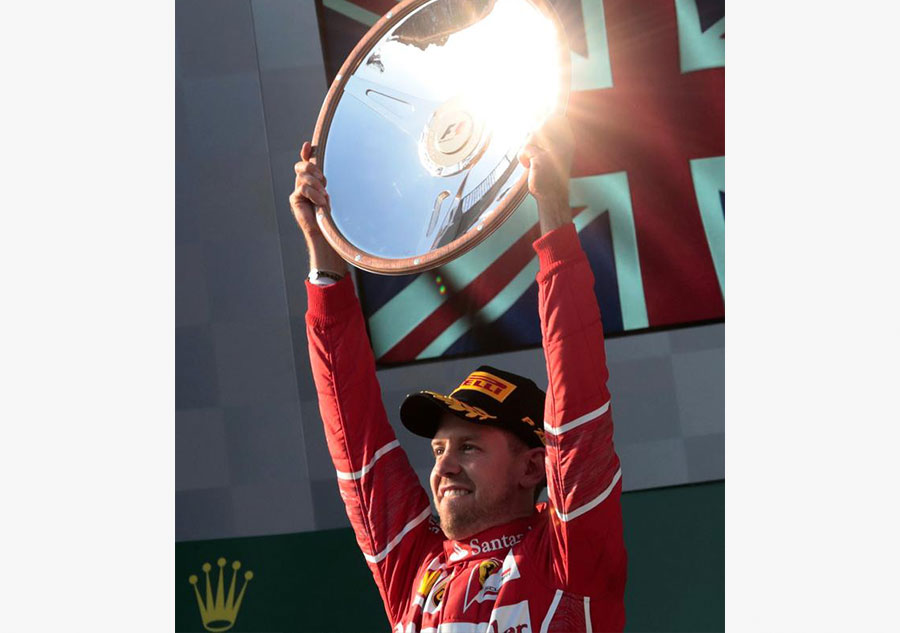 Ferrari driver Sebastian Vettel of Germany holds the Australian Formula One trophy aloft on the podium during the Australian Grand Prix in Melbourne, Australia on March 26, 2017. [Photo/Agencies]
MELBOURNE, Australia — Sebastian Vettel jumped onto the podium at the Australian Grand Prix and held up his right index finger, celebrating the end of Ferrari's Formula One drought and a break in the Mercedes dominance.
It was back to No. 1 for Ferrari, at least after one race to open the season.
Ferrari hadn't won an F1 GP since Vettel's victory in Singapore in September 2015, and so his unrestrained joy on Sunday signaled renewed confidence from him.
"For now, we're just over the moon," four-time world champion Vettel said after holding off Mercedes teammates Lewis Hamilton and Valtteri Bottas. "It's been a great day for us. The team has been working so hard at the track as much as back at the factory. It's a great feeling.""Grazie mille," he added, a nod to the Italian manufacturer, "you can't say much more."With regulations designed to make the 2017 F1 cars faster — wider tires, greater aerodynamics, bigger fuel loads and increased downforce — Vettel proved Ferrari's extra pace in pre-season testing was genuine.
"It's good to know we have a great car but it's just the beginning ... with new regulations, a new generation of cars," Vettel said. "Mercedes have a great engine and a great car the last couple of years — we're the ones who've had to catch up. Whatever happens this year, the race today doesn't hurt."Vettel finished in 1 hour, 24 minutes and 11.672 seconds, almost 10 seconds clear of Hamilton, to give Ferrari its first win in Australia since Kimi Raikkonen took the title in 2007. Raikkonen, in the second Ferrari, finished fourth this year.