Two years working at the youth level of Chinese tennis has given Carlos Rodriguez plenty of insight into the country's development woes.
As China's top players - world No 8 Li Na, No 29 Zheng Jie and No 40 Peng Shuai - feature more prominently in international tournaments, highlighted by Li's victory at Roland Garros in 2011, tennis' popularity has increased across the nation.
Still, there are few young players who appear capable of surpassing their predecessors. Twenty-three-year-old Zhang Shuai, for instance, is still struggling to make the second round at a Grand Slam.
On the men's side, the highest ranked player is Zhang Ze, who is 154th in the ATP rankings. Wu Di became the first Chinese to make the main draw at a major when he qualified this month for the 2013 Australian Open men's singles.
Rodriguez, who brought his tennis academy to China two years ago, said the Chinese have been unable to use the current generation's accomplishments to boost the development of young players, despite the fact tennis courts are springing up nationwide, and several international tournaments have been introduced.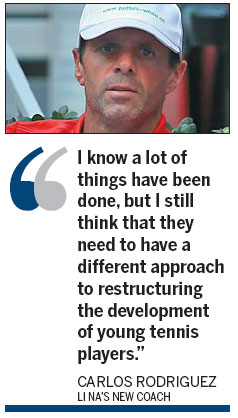 "They haven't been able to profit from this incredible generation that has brought so much credit to China," said Rodriguez, who inked a deal with Li in August. "I know a lot of things have been done, but I still think that they need to have a different approach to restructuring the development of young tennis players.
"I'm not only talking about learning, but tennis tournament structure, selections, and traveling abroad to play. To give Chinese kids at 12 or 14 the opportunities to go and play all over the world, not the Chinese players at 18 or 20 years old - that's too late. Then you are going to have very good players with open minds, and also the coaches to go with them."
The Argentine said there is plenty of room for improvement.
"For example, when you go to a tournament, you should enable the kids to eat good and healthy, but you don't have that," he said.
"It's not good to play a tennis tournament with only three balls on a court, because it will take you 25 seconds to get the ball between the points, but when you go to international tournaments, you have only 15 seconds between points, and the players will be completely lost.
"You also don't have fitness centers and places to take a shower most of the time - how can you educate the kids that after the match, you have to do some bike, stretching, take a shower and eat?
"It's too late to tell them that at 25 years old. You have to do it at 13, 14, and when they come to 16, 18, they become professional players.
"It's not a big deal, it's just a question of the structure. Then you will have huge amount of players, because I see talented kids everywhere, boys and girls with very good potential. It's amazing."
tangzhe@chinadaily.com.cn
(China Daily 10/31/2012 page22)