The 2012 Tour of Beijing will hit the road on Tuesday with 148 of the world's best riders kicking off the opening stage, which runs from Tian'anmen Square to the Bird's Nest Olympic stadium.
The five-day tour will feature some of China's tourism landmarks, including the Summer Palace and the Great Wall.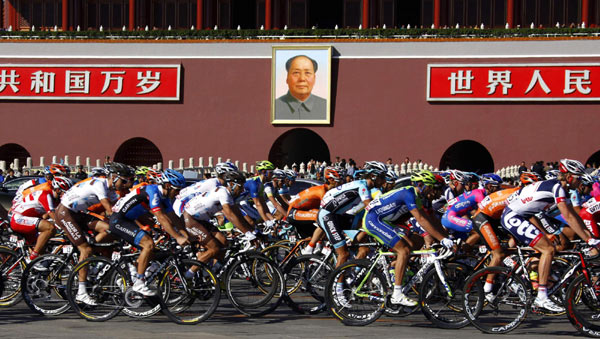 Competitors in the Tour of Beijing cycle race, during the start of the five-day event, ride past the Tiananmen Square in Beijing, Oct 9, 2012. The race, which was held for the first time last year, will cover a distance of 761.5 kilometers. [Photo/Agencies]
Heading the list of riders will be 2010 Tour de France champion Andy Schleck of Luxembourg, who rides for the American team RadioShack-Nissan team. The cycling superstar is returning from a long layoff following a broken pelvis and is seeking to make sure his 2012 season doesn't go to waste.
He will be joined on the starting line by defending champion Tony Martin of Germany riding for Omega Pharma-Quick Step and Beijing Olympic road race champion Samuel Sanchez of Spain, who rides for Euskatel-Euskadi.
"Cycling at the Beijing Olympic Games was such a huge success," said Global Cycling Promotion director Alain Rumpf.
"Following the 2008 Games, the city of Beijing was determined to achieve further development goals, among which sports play an important role. So for Beijing, there are some environmental goals as the city continues its efforts in dealing with environmental and sustainable energy issues. We see the Tour of Beijing as particularly well-placed to support those strategies.
"Our long-term goal is for the Tour of Beijing to be a catalyst for getting more citizens out of their cars and back on to their bicycles, the traditional mode of transport in China."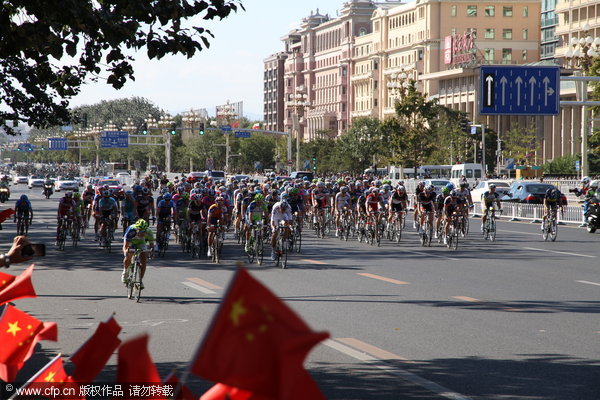 Competitors in the Tour of Beijing cycle race ride past the Wangfujing Business District in Beijing, Oct 9, 2012. in Beijing, Oct 9, 2012. [Photo/CFP]
Asia's first International Cycling Union professional continental team, Champion System Pro Cycling, will make its WorldTour debut.
Fielding an outfit that boasts four Chinese riders, including current and five-time national champion Xu Gang, the China-based team will turn to its local knowledge for the biggest race of its debut year.
"One of the primary reasons the Champion System team was formed to be able to bring China's top cycling talents together to represent their country and their provinces in Asia's most prestigious event and eventually in the biggest competitions around the world," said Champion System general manager Edward Beamon.
Xu will be joined by national counterparts Liu Biao, Jiao Pengda and Jiang Kun.
"The 2011 Tour of Beijing was a very exciting race for me, and gave me motivation to continue as a professional," Jiang said.
"I like to be aggressive and hope I can be in an escape again this year.
"It is a great honor to take part in this year's event as part of the Champion System team with my Chinese and international teammates. This will be a great highlight of the season for us."
tangzhe@chinadaily.com.cn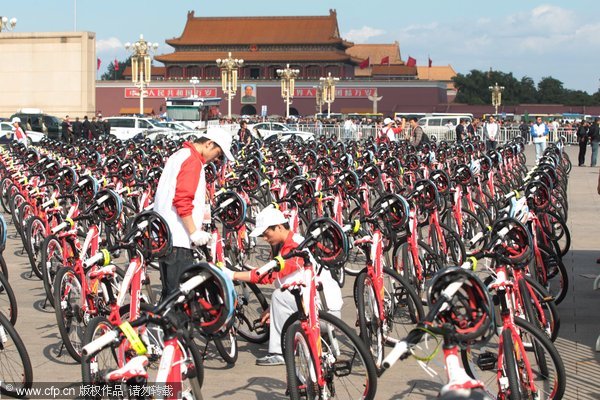 Volunteers check the bicycles before the start of the 2012 Tour of Beijing cycle race at the Tiananmen Square in Beijing, Oct 9, 2012. [Photo/CFP]