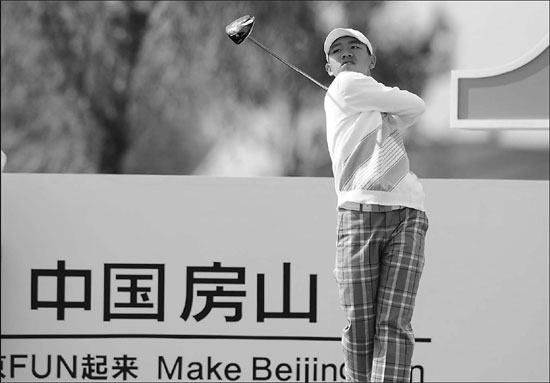 Thirteen-year-old Guan Tianlang has his sights set high: He wants to win a true Grand Slam, something even Tiger Woods has never managed. [Provided to China Daily]
Guan Tianlang is 13, and he's already winning tournaments, setting records and impressing Tiger Woods, Tang Zhe reports.
Guan Tianlang dreams big. At the age of 8, he told his father he wanted win a true Grand Slam in golf, a feat that's never been accomplished. Five years later, that's still the goal. "I want to be as good as Tiger Woods, or even better than him," Guan, nicknamed Langly, told China Daily during the Changyang Amateur Golf Championship in September.
Guan's not afraid to put in the work, having already claimed numerous titles and records.
The Guangzhou native lifted the world junior crown in San Diego with a record 18-under in three rounds in the summer of 2011. At the 2011 Enjoy Jakarta World Junior Golf Champions in July, he claimed the championship with 15 pars. He became the youngest champion of a national amateur open by winning the China Amateur Golf Open in November, and then the youngest champion of the Aaron Baddeley Invitational one month later, which qualified him to play the 2012 Australia Open to be held in December.
He also become the youngest player in the history of the European PGA when he teed off in the Volvo China Open in April.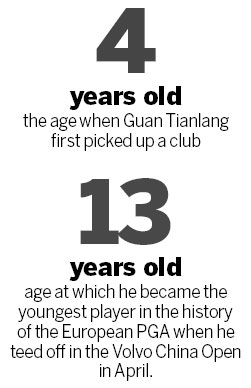 His father Guan Hanwen, a doctor and a golf enthusiast, attributes his son's achievements to affection for the little white ball.
Guan Hanwen was among the early generation of Chinese to play golf in the 1990s. In addition to daily practice, he asked friends overseas to bring video tapes and DVDs of international tournaments for him to study. The father's passion for golf rubbed off on the son.
"When I watched the games, he watched attentively with me as long as I did, mostly one to two hours," Guan Hanwen said. "I was a little surprised at that time, and he did fall in love with golf later."
The younger Guan first picked up a club at the age of 4, and at 6 began playing junior competitions in the United States, where he would attend professional tournaments like the US Open with his father.
Despite all that golf, Guan is in his second year of middle school and is doing well in his studies.
"The most important reason for Langly to achieve outstanding results is his pure affection for golf," Guan Hanwen said. "He put himself into golf and made it part of his life, just like eating, watching TV or playing video games. It's fun for him, and he caught on quickly.
"But if you ask him to practice four or five hours every day, he might lose interest and play even worse.
"Many kids in the US practice less, but play great. Of course there are also many standing out through intensive trainings, but I feel those who play with interest have more potential because interest is the best teacher," he said.
Just as impressive as Langly's game is his attitude.
"His character is inborn, different from both me and his mother," Guan Hanwen said. "He has the same manner now matter how he plays, and you can hardly figure out whether he played good or bad.
"When he plays bad, there is no signal, and if it is a multiple-day event, he can gradually catch up the following days, even if he lost a lot of ground the first day. When he finishes more than 10 shots under par, you also can't feel his excitement - maybe this is one of his advantages in playing golf."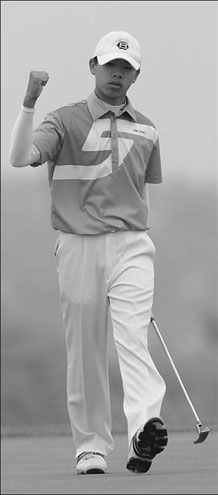 Former world junior champion Guan Tianlang is regarded as one of the most promising young men's golfers in China. [Provided to China Daily]
It is that composure that drove Guan to challenge Woods at the age of 12.
Guan was matched with Woods when they played one hole together during the pro-am event at the HSBC Champions at Shanghai Sheshan International Golf Club in 2010.
In front of his idol, Guan asked to shoot from the same black tees as Woods, instead of the blue tees meant for amateurs.
Woods hit a 4-iron to eight feet on the 212-yard par-three 17th, and Guan responded with a straight three-wood strike within 10 feet.
Woods saved face with a birdie, but was impressed with Langly.
Five months later, Guan got another chance to play with Woods after he won the 2011 Mission Hills Nike Junior Championship in Shenzhen.
"Tiger has a good memory, he shook hands with Langly and said 'I know this kid'," Guan Hanwen said.
Though Langly has already distinguished himself from his peers, he is not in a hurry to turn professional as he wants to wait for his physical growth to make him more stable and competitive.
"I'm only 13 now, and I have yet to start to enhance my physical power. I am going to work on it soon, and it will help increase my striking distance," Langly said. "I want to wait for my body to grow, and am thinking of turning professional after improving my distance."
His father said it will take some time, but maybe not as long as you would think.
"If he can take a competitive ranking in the principal tours such as the European tours and the Asian tours, then he can turn professional, regardless of age," Guan Hanwen said. "But there are still a lot of differences in height, power and striking distance between a 13-year-old child and an adult. He is short of muscular power and has to rely on the flexibility of his body to play.
"It will take some time. But I believe he will be something after he grows stronger."