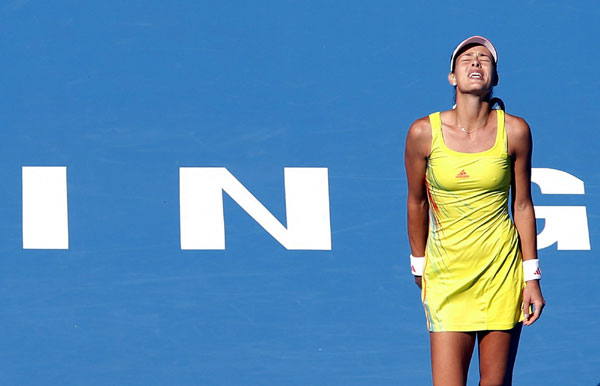 Serbia's Ana Ivanovic reacts after missing a shot during her third round match against Switzerland's Romina Oprandi at the China Open tennis tournament in Beijing October 3, 2012.  [Photo/Agencies]
BEIJING - Former world No.1s Ana Ivanovic and Jelena Jankovic were bundled out of the China Open third round on Wednesday, while Maria Sharapova of Russia sailed through to the third round with a convincing performance.
The No.11-seeded Ivanovic was the first of the two Serbs to fall, falling out of rhythm and losing to crafty Swiss Romina Oprandi 6-4, 6-3.
"I really struggled to find my rhythm out there, especially on the forehand. The ball was coming with not so much pace, and I wasn't really efficient moving forward and taking advantage of that," said a disappointed Ivanovic.
Ivanovic hit 23 winners to just 8 from Oprandi, but the former French Open champion made 17 unforced errors compared to Oprandi's 2. It seemed Oprandi just tried to extend rallies and waited for the Serb to make a mistake.
"She's a tricky opponent. She has really good game, very talented girl. I think the unforced errors made a big difference," the 24-year-old Ivanovic added.
Oprandi's win over the world No.12 was the third-best win of her career, following wins over then-No.2 Kim Clijsters at 's-Hertogenbosch last year and then- No.11 Francesca Schiavone at the Australian Open this year.
Jankovic came out strong in her match against Carla Suarez Navarro, racing out to a 5-2 first set lead, but the Spaniard clawed her way back - fending off five set points along the way - and eventually carved out a 7-5, 6-4 triumph.
"Jelena is always difficult to play, but I played well," Suarez Navarro said. "She always fights a lot, but I'm happy to have finished it off. I'm very happy to be in the next round and look forward to playing again out there on Friday."
In the last two second round matches, No. 2 seed Sharapova cruised past Sorana Cirstea at 6-2, 6-2, and Slovenian qualifier Polona Hercog edged Ekaterina Makarova 7-6 (5), 3-6, 7-6(3), defying a seemingly insurmountable 5-1 third set deficit to prevail.
"I had never played Sorana before but she has beaten top players and is one of those players who can come out and just have a great day," Sharapova said. "She hits really flat and hard, so I tried to play aggressively and take her time away. I'm happy I played a shorter match than I did in the first round."