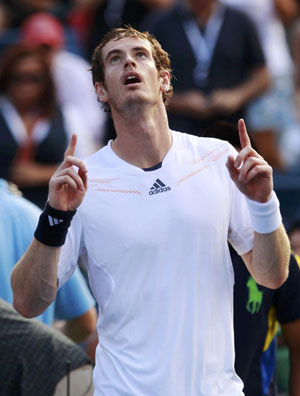 Britain's Andy Murray celebrates after defeating Alex Bogomolov Jr. of Russia during their men's singles match at the U.S. Open tennis tournament in New York August 27, 2012.  [Photo/Agencies]
NEW YORK - Olympic champion Andy Murray looked to build on his recent success by cruising past Alex Bogomolov Jr. and leading a parade of favourites into the second round of the US Open on Monday.
The top guns had little trouble advancing on the rain-interrupted opening day of the year's final grand slam, with defending champion Samantha Stosur and 2006 winner Maria Sharapova hardly breaking a sweat.
Murray was at his best when it counted the most, recording a service break in a healthy nine of 19 chances against the 29-year-old Russian to win 6-2 6-4 6-1 in two hours, 15 minutes.
But the Scotsman, who beat Roger Federer to win the gold medal at the London Olympics, successfully landed only 49 percent of his first serves against Bogomolov.
"I played fairly well from the back of the court. I just would have liked to have served a bit better because I wasn't getting many free points on my serve," said Murray, looking for his first grand slam title.
"Because of that, there were a lot more rallies. When he's in a rhythm, he's tough to break down."
Federer, a five-times champion at Flushing Meadows, and three-times winner Kim Clijsters, playing in her last tournament before retiring, were set to play under the lights later Monday.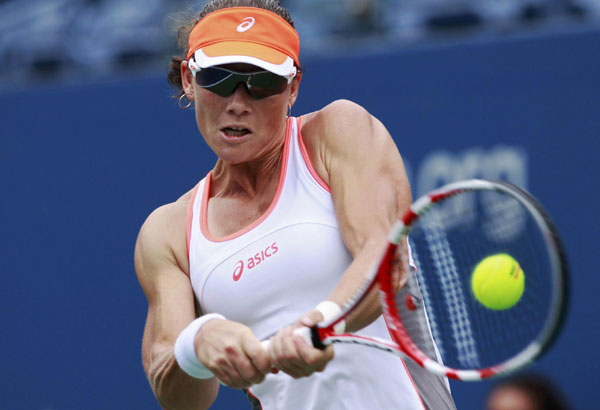 Samantha Stosur of Australia hits a return to Petra Martic of Croatia during their women's singles match at the US Open tennis tournament in New York August 27, 2012.  [Photo/Agencies]
Stosur needed only 51 minutes to blitz Croatia's Petra Martic 6-1 6-1 in cavernous Arthur Ashe Stadium, while Sharapova blew by Hungary's Melinda Czink, 6-2 6-2 on the same court.
"It was fantastic," said Stosur, the Australian seventh seed. "It was great to get out there again. I felt like I was ready to go. First match up, first day, was a good start, so I certainly won't complain about being out there."
Stosur lost in the first round of the Australian Open and the Olympics and was beaten in round two at Wimbledon but her rout of Martic signalled she is not ready to relinquish her US Open crown.
Golden Set
She won the first 19 points of the match before giving Martic a gift and ending thoughts of a so-called golden set.
"I hadn't missed a point and the match had been going pretty quick and obviously in my favor," said Stosur, who blasted 10 aces in the victory. "(The idea of a golden set) did pop into my head for a split second but then I hit the double fault and it was erased and I was quickly on with the next point."
Shortly after the 28-year-old Stosur left the court fans scrambled for cover as a heavy rain pelted the National Tennis Center grounds at Flushing Meadows.
The rain caused a two and a half hour delay and threatened to wreak havoc on Monday's schedule but the sun re-appeared to create steamy conditions and play resumed as planned.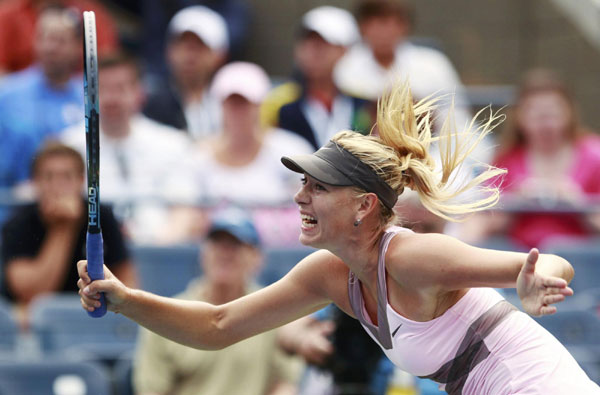 Maria Sharapova of Russia hits a return to Melinda Czink of Hungary during their women's singles match at the US Open tennis tournament in New York August 27, 2012. [Photo/Agencies]
Sharapova enjoyed a 24-8 advantage in winners and lost her serve only once in a swirling wind to set up a second-round match against Lourdes Dominguez Lino of Spain.
It marked Sharapova's first match since winning a silver medal at the Olympics earlier this month.
"I was just happy to be back playing a competitive match," she said. "It's been a few weeks. It was a nice break in a way, but after so many weeks of practising, you're just eager to get back on the court.
"I was happy with the way I came out. Never played my opponent before. A lefty. Conditions weren't exactly perfect.  Overall I played steady, but there's room for improvement, that's for sure."
There were no major upsets, with fifth seed Czech Petra Kvitova, the 2011 Wimbledon champion, overcoming some first-set problems to down Slovenia's Polona Hercog 7-6 6-1, while 2011 French Open champion Li Na of China beat Britain's Heather Watson 6-2 6-3.
Italy's Marion Bartoli, a Wimbledon finalist in 2007, defeated American Jamie Hampton 6-3 7-6.