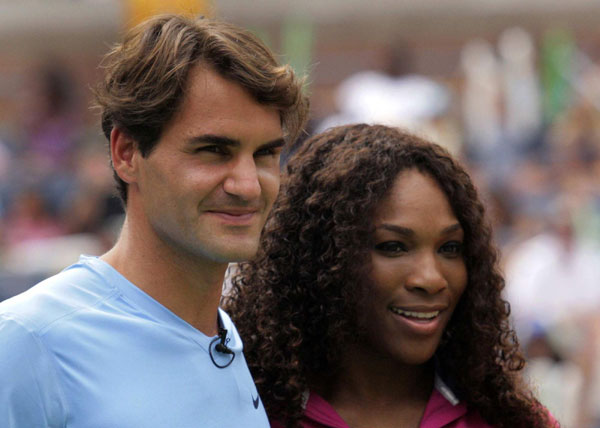 Switzerland's Roger Federer (L) and Serena Williams of the US participate in Arthur Ashe Kids' Day ahead of the 2012 US Open tennis tournament in New York August 25, 2012. [Photo/Agencies]
NEW YORK - Roger Federer looks to cap an "incredible" season when he launches his bid for a sixth US Open title against American Donald Young on Monday.
Federer beat Briton Andy Murray to win the 2012 Wimbledon title, regained his world number one ranking and comes into the final grand slam of the year in ominous form.
"I'm just happy how I'm playing," said Federer. "I already reached my goal for the year becoming world number one and getting Wimbledon again and getting a medal for Switzerland.
"It's been incredible."
Murray, who lost to Federer in the Wimbledon final but beat the Swiss weeks later at the same venue to win gold at the London Olympics, is also in action on Monday against Russian Alex Bogomolov Jr.
Despite his golden summer, Murray said he was not about to slack off.
"I needed to make sure that afterwards I worked hard," he said. "Whether you're confident or not confident, providing you work hard and you do all the right things in training, then you'll get a good result.
"That was the most important thing, to make sure I kept my feet on the ground and keep working hard and try to improve.
"Am I more confident? You never know what's going to happen when you get out there on the court. I prepared well. I trained hard the last five, six days, so I'm ready to go."
Also taking the court on Monday will be last year's women's winner Samantha Stosur, as well as former champions Maria Sharapova, who completed her career grand slam this year at the French Open, and three-times US Open titlist Kim Clijsters.
Clijsters, who faces American Victoria Duval, will retire after the tournament.
"Obviously this place is magical for me," the Belgian said. "I have had so many beautiful memories. I have enjoyed coming here from when I was a junior.
"I love the surface, I love the atmosphere, and I'm excited."
Sharapova, who won at Flushing Meadows in 2006, will face Hungary's Melinda Czink in her opening-round match. The Russian has not played since winning a silver medal at the Olympics.
"I feel really good," she said. "I went into Montreal and was supposed to play but I got a stomach bug and just decided to give it a rest.
"I think it was a sign my body just needed to slow down. It was a lot of travel, a lot of playing. Had a hectic summer.
"I know that if I feel healthy and I have enough practice, I'm okay. I don't feel like I need to play three tournaments in a row in order to be ready for the US Open."