A group fronted by ESPN analyst Ron Jaworski was in Beijing on Monday to announce that the Arena Football League is working on building a bridgehead in China.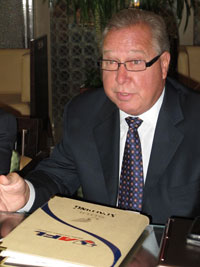 Ron Jaworski 
"We're coming to a country that doesn't know much about what American football is, but it's a country that loves sports," Jaworski said. "They will pick up on football very quickly. I watched the Olympics, and watched those weightlifters and I think, I'd like to have some of those guys on my offensive line."
The group will stage a series of exhibitions next fall, then launch what it hopes will be a six-team, 10-game schedule in October 2014. Games will be held in the fall and winter to allow AFL coaches and trainers the freedom to come to China during their offseason and teach their Chinese counterparts how to build teams on their own.
The league will begin as a mix of Chinese and American players, with the goal of converting to all-Chinese rosters as quickly as possible.
"Our goal is in China, for China," said Marty Judge, a co-owner of the AFL's Philadelphia Soul along with Jaworski. "The NFL went in to Europe and it failed because you need to have (a country's own) players on the teams."
Former NFL coach Dick Vermeil is also backing the project, which has been two years in the making.
Jaworski said he's confident China will latch on to the game.
"There are plenty of Americans who don't understand football, but they still go to the games," he said.