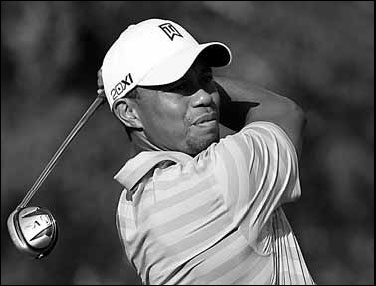 Tiger Woods followed an opening-round 71 with a 69 on Friday to miss the cut for the ninth time in his PGA career. [Photo / Agencies]
Tiger Woods missed the cut in the Greenbrier Classic by a stroke on Friday, following an opening 71 with a 69 to finish at even par.
He missed a cut for only the ninth time in his PGA Tour career, and for the third time in a tournament following a victory.
After winning last Sunday at Congressional, Woods was on a course he'd never seen before.
"I didn't quite have it," Woods said. "I drove it really good today and I just did not have the feel for the distances. The ball was just going forever. I know we're at altitude, but I just couldn't get the ball hit pin high no matter what I did, and subsequently, I made some bogeys."
Phil Mickelson also failed to advance to weekend play, the first time Woods and Mickelson have missed the cut in the same tournament as professionals.
Mickelson shot his second straight 71.
US Open champion Webb Simpson topped the leaderboard at 9-under when play was suspended because of darkness in the round that was delayed because of rain.
Simpson made a 6-foot birdie putt on the par-3 18th for a 4-under-66.
A dozen players were unable to complete the round.
Woods believes his distance control will be easy to work on heading to the British Open, which starts July 19.
"It's not going to be this warm and we're not going to be at altitude. We'll be on the beach," he said.