Legacy of great thinkers still shapes modern culture

The interior (left) and exterior of the residence of Hu Shi, the renowned modern Chinese cultural figure born in Jixi county, Anhui province.
The history of Anhui province as it is defined today is less than 400 years old. However, its contributions to Chinese civilization extend far beyond that period.
Anhui became a province in 1667 during the reign of the Kangxi Emperor of the Qing Dynasty (1644-1911). Its name is a combination of the first characters of Anqing and Huizhou (today's Huangshan city) prefectures.
Anhui is also commonly known as "Wan", as it was home to the ancient Wan Kingdom more than 3,000 years ago.
A great number of relics of human activities in the region dating back to the Paleolithic and Neolithic ages have been found in Anhui, showing its important role in the development of ancient Chinese civilization.
Anhui's culture reached its first peak during the Spring and Autumn (770-476 BC) and Warring States (475-221 BC) periods when two Anhui natives created Taoism, a prominent school of philosophy with a lasting impact on the nation's culture.
Laozi, or Lao-Tzu, born in Anhui's Woyang county, was a famous Chinese philosopher during the Spring and Autumn period.
He is known as the author of the Tao Te Ching - or Daodejing - and the founder of philosophical Taoism, and is worshipped as a deity in religious Taoism and other traditional Chinese religions.
According to Loazi's philosophy, the universe is dominated by Tao, the powerful and yet supremely humble natural rules. He deemed that people should live in harmony with nature, free from unnatural desires, and that administrators should govern according to the principle of "wu wei", which means not doing anything against the natural rules.
Laozi's philosophy had a great influence on politics in the following generations, though he himself didn't like politics at all.
A number of emperors, especially the founders of later dynasties, believed in governing by wu wei, practicing limited government with less interference in social life, levying light taxation and allowing more freedom for people and businesses to develop.
Laozi's legacy was inherited by Zhuangzi, or Zhuang Zhou, another proponent of philosophical Taoism who lived in Anhui's Mengcheng county in the fourth century BC.
Zhuangzi is the author of at least part of a famous work bearing his name, Zhuangzi. The book, a collection of anecdotes, allegories, parables and fables, advocates spiritual freedom and independence, which can help people to transcend worldly worries such as failure, sadness, fear and even mortality.
The story-driven text of Zhuangzi's book contains wildly imaginative tales and the skillful use of reasoning and rhythm, admired by many famous Chinese intellectuals.
Many major Chinese poets and writers in history - such as Sima Xiangru and Sima Qian during the Han dynasty (206 BC-AD 220), Ruan Ji and Tao Yuanming during the Six Dynasties (222-589), Li Bai during the Tang Dynasty (618-907) and Su Shi and Lu You of the Song Dynasty (960-1279) - were all influenced and inspired by Zhuangzi.
Despite its criticism of "useless technologies", Taoism is also an important source of inspiration for modern science and technology.
Liu An, grandson of the first Han Dynasty emperor Liu Bang, was appointed king of Huainan with his fiefdom in today's central Anhui.
The politically ambitious prince was not meant to be a scientist, an inventor or a writer. But he became all of the above, never becoming an emperor.
Using the Taoist ideas of Tao and Yin Yang, Liu explained the change of the four seasons and invented the 24 Solar Terms to guide farming.
Liu is also the inventor of bean curd - a byproduct of his alchemy practice - and the editor-in-chief of the book Huainanzi, an encyclopedia based on Taoist thought, covering science, technology, literature, philosophy and medicine.
Anhui's literature came to a peak during the late Han Dynasty. Cao Cao (155-220), who was born in Bozhou, Anhui, was the greatest statesman of the age. He and his two sons - Can Pi and Cao Zhi - were also the greatest poets of the time. The verses of the three Caos, unpretentious and profound, helped to reshape the poetic style of their time and beyond, eventually contributing to the poetic styles associated with the Tang Dynasty.
A school of Confucian thought prevailed in Anhui during the Song Dynasty because of the great thinkers Cheng Hao, Cheng Yi and Zhu Xi. Their thoughts, focusing on rationalist interpretation of the classics by Confucius and Mencius, became the mainstream of Chinese culture for nearly 1,000 years.
The historical legacies finally led to the formation of Huizhou Culture - a culture flourishing in southern Anhui covering a wide range of fields such as philosophy, literature, medicine, architecture, fine art, handicrafts and folk customs.
liyou@chinadaily.com.cn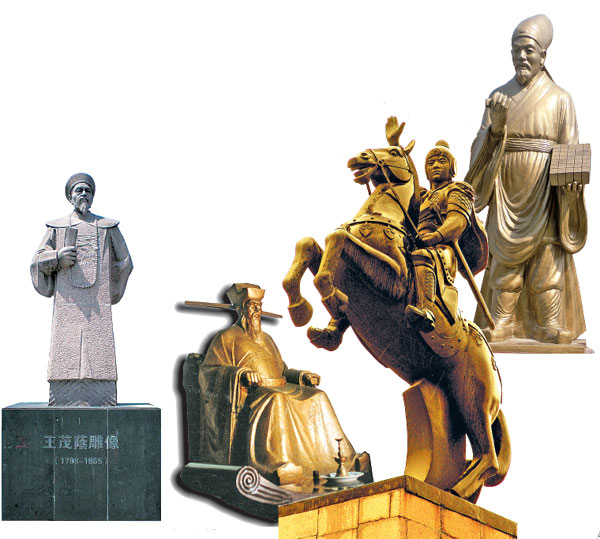 From left: Wang Maoyin, a Qing Dynasty financial expert; Bao Zheng, a Song Dynasty judicial officer; Qi Jiguang, Ming Dynasty general; and Bi Sheng, the inventor of movable type in Song Dynasty, were all renowned historical figures born in Anhui.
(China Daily 04/11/2017 page26)