Lyuju Opera program sees revitalization efforts pay off
In a training center in Dongying, Shandong province, two primary school students rehearsed their performance of Lyuju Opera, a very unique genre of the Chinese art form, which is indigenous to the province.
In keeping with the traditional performance art, the training was part of the "bringing Lyuju into the classroom" program that the Dongying city government has been promoting.
Benefiting from the program, two kids from the local school who had previously heard very little about the traditional opera, eventually performed for a national TV channel.
"People are the key to keeping the centuries-old traditional art of Lyuju going," said Wang Lingling, the tutor in the program and a Lyuju performer. "It is important to cultivate the future inheritors from an early age and promote the tradition from the classroom."
Lyuju, a regional opera originating from Shandong, is an indispensable component of Chinese performing arts. It developed in Dongying hundreds of years ago and was mainly performed in the region's dialect. It was once very popular across China and was rated one of the eight most-loved opera genres in the country during the 1950s and 1960s.
However, since the 1990s, the TV and film industry has become more and more popular in people's daily entertainment, while traditional opera has declined. Not only did the audience lose interest in the traditional storytelling form, the theaters and performing groups were also less prepared for the fast-changing market. Audiences decreased dramatically and Lyuju was in danger of dying out.
Since 1997, the Dongying city government started to gradually build up its Lyuju education system, which included training courses in elementary and junior schools and public workshops.
In qualified schools, Lyuju has been part of the school's compulsory course, to make sure every student is able to learn at least one song.
"As a Lyuju inheritor, I feel obligated to do my best to pass on the torch," said Wang.
Throughout the past decade, she has taught Lyuju for more than 200 hours in four different schools, educating about 1,000 students.
"At first the kids were not interested in the class and had no idea about opera. But through lectures on the opera's history and features, they slowly grew a fondness for it," she said. "Now, many students have signed up for Lyuju workshops after school and they are doing really well when performing."
Contact the writers through wangqian@chinadaily.com.cn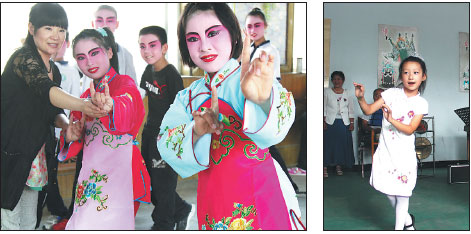 Students rehearse their performance of Lyuju Opera at a training center in Dongying, Shandong province.Wang Qian / China Daily