High-speed trains delayed after SW China earthquake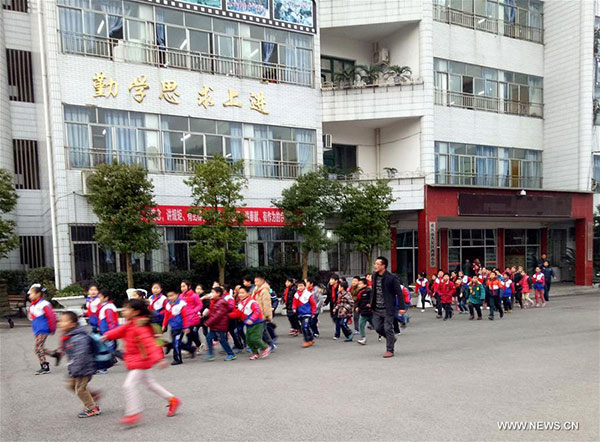 Pupils are evacuated to outdoor place after earthquake at Xichan Elementary School in Dazu District of Chongqing, southwest China, Dec 27, 2016. A 4.8-magnitude earthquake hit Chongqing on Tuesday morning. So far, no casualties have been reported. [Photo/Xinhua]
CHONGQING - Several trains on the Chengdu-Chongqing high-speed rail line have been delayed or halted following a 4.8-magnitude earthquake that struck Rongchang District in southwest China's Chongqing Municipality Tuesday morning.
The earthquake occurred at 8:17 am Tuesday, with the epicenter monitored at 29.47 degrees north latitude and 105.60 degrees east longitude.
Authorities in Rongchang District said the earthquake was strongly felt in the city proper, with the glass in some residential buildings shattered, but no casualties have been reported so far.
Ticket sales for affected train routes have been suspended until further notice.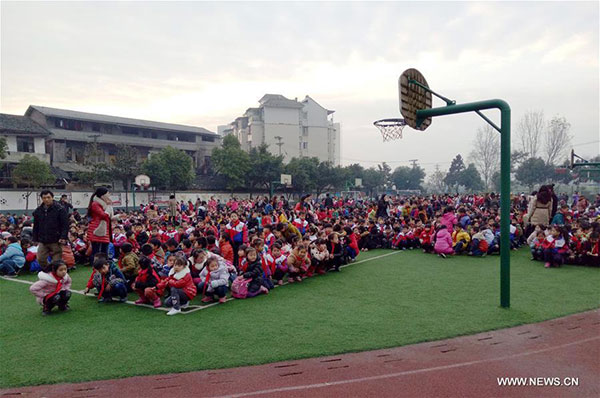 Pupils are evacuated to a playground after earthquake at Xichan Elementary School in Dazu District of Chongqing, southwest China, Dec 27, 2016. A 4.8-magnitude earthquake hit Chongqing on Tuesday morning. So far, no casualties have been reported. [Photo/Xinhua]