PLA hospital saves lives in Wenchuan earthquake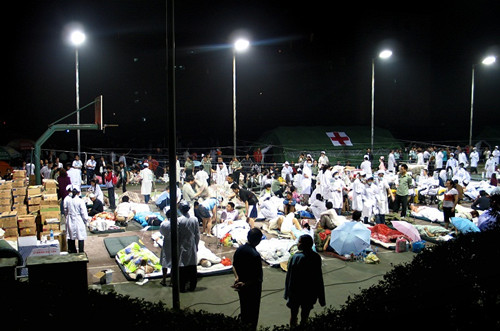 The General Hospital of the Chengdu Military Region of the PLA treats large numbers of wounded people on a basketball court on May 12, 2008, after a magnitude-8.0 earthquake hit Southwest China's Sichuan province.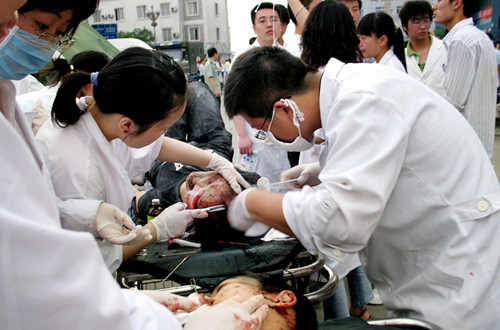 Medics perform surgical debridement on an earthquake victim.
A military hospital saved hundreds of lives after the magnitude-8.0 Wenchuan earthquake hit five years ago.
A magnitude-8.0 earthquake hit Wenchuan county, Sichuan province, at 2:28 pm on May 12, 2008.
Terrified residents raced out of buildings, while doctors and nurses from the General Hospital of the Chengdu Military Region of the PLA returned back to their work stations.
Everyone was scared, but no one ran away. The medics from the largest comprehensive military hospital in the region immediately stepped up to provide aid.
As many as 1,600 patients, including 320 in critical condition unable to get out of bed, were evacuated to safety within 20 minutes.
A middle-aged man began weeping when he saw three medics struggling to carry his sick mother out of her room on the sixth floor of a building. Most people had fled the shaking building by that time.
"Thank you. Thank you so much," he said. "You are good soldiers!"
Four surgeries were taking place when the earthquake hit. None of the 32 medics left until the surgeries were finished at 4 pm.
The doctors and nurses had no time to catch their breath before earthquake victims started to arrive.
The hospital received its first quake victim at 2:35 pm.
Operation vehicles, surgical tents, X-ray unit vehicles and blood collection vehicles soon gathered in the open area in front of the clinic. A total of 1,000 mattresses were set up to create a temporary medical center.
Three emergency triage points were established in front of the clinic, receiving massive amounts of wounded people sent from severely hit regions, including Pengzhou, Shifang, Mianzhu, Dujiangyan and Beichuan.
The hospital treated over 450 wounded patients and operated on 81 people that night.