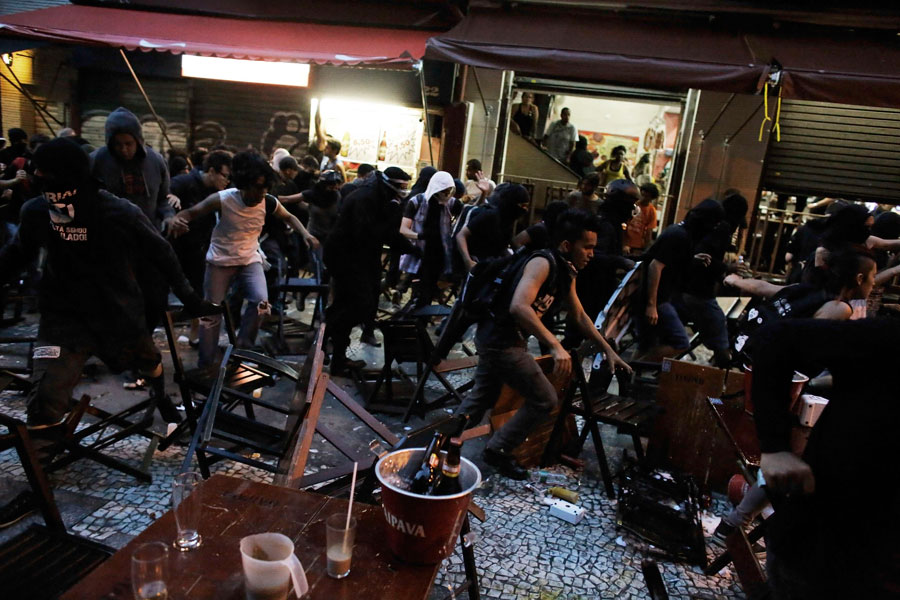 Demonstrators run through a bar after clashing with military police during a protest against the 2014 World Cup in Sao Paulo Jan 25, 2014. The year's first major protest against the World Cup drew more than 2,000 demonstrators into the streets of Brazil's largest city on Saturday, as frustration over the cost of the tournament lingers in the host country. [Photo/Agencies]
Violence broke out in Brazil's largest city on Saturday when masked attackers infiltrated an anti-World Cup protest.
Demonstrators burned tires, rubbish and torched at least one car while banks and other buildings in Sao Paulo were vandalized, according to Brazilian news website Veja.
Local media reported that police made 128 arrests.
It was one of a series of protests against football's signature event planned by activist group Anonymous and follows nationwide rallies during the Confederations Cup last June.
Marchers carried signs saying "FIFA go home"and "Wake up Brazil", in reference to the huge cost of staging the event.
Many Brazilians are concerned that while billions of dollars are being spent on stadiums, essential public services like education, health and transport remain in a precarious state.
Rallies were also held Saturday in Rio de Janeiro, Goiania and Brasilia.
The Sao Paulo violence comes amid renewed unrest in Brazil's largest cities.
In recent weeks authorities have stepped up security in shopping malls across Rio de Janeiro and Sao Paulo following a series of flash mobs, known locally as "rolezinhos".