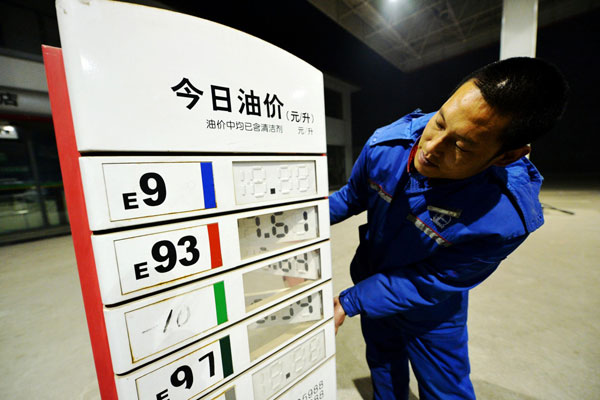 A staff member adjusts an oil price indicator at a gas station in Baoding city, North China's Hebei province, on Jan 25, 2014.  [Photo/Xinhua] 
BEIJING - China's top economic planner announced on Friday that it will cut the per-ton retail price of gasoline by 130 yuan ($21.3) and diesel by 125 yuan.
The adjustment, following a cut on January 10, will see the benchmark retail prices of gasoline decrease by 0.1 yuan per liter and that of diesel by 0.11 yuan per liter, the National Development and Reform Commission (NDRC) said in a statement on its website.
Under China's new pricing regime, which came into effect last year, domestic fuel prices are adjusted when international crude prices reflect a change of more than 50 yuan per tonne for gasoline and diesel over a period of 10 working days.
The NDRC said slowing demand in the global oil market was the major reason for the price fall.
It asked major oil refiners to coordinate production and distribution to ensure steady supplies and strictly carry out China's pricing policies.
Hu Huichun, an oil analyst with www.sci99.com, said the two consecutive cuts will help ease price inflation pressures during the upcoming Spring Festival.