Plans display nation's widening vision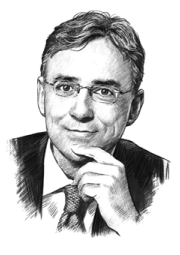 Ettore Francesco Sequi, Italian ambassador to China [CHINA DAILY]
Ettore Francesco Sequi, the Italian ambassador to China since 2015, said he often shows visiting Italian guests how to pay for goods and services with WeChat and Alipay. He views the development of online payment technology as part of what he calls the "digital transformation", which he said is the most impressive aspect of China's change over the past five years.
"I'd say the major strength of China is definitely the capacity to change, the flexibility to change," he said.
Impressed by China's innovation drive, Sequi said it is important for the world's second-largest economy to keep focusing on its manufacturing competitiveness.
In 2015, the nation put forward Made in China 2025, a national strategy aimed at upgrading its manufacturing industry by making it smarter, more efficient and more environmentally friendly.
"Italy is very interested in Made in China 2025. We have a similar program, Industry 4.0, and we see the efforts China is making in this field," Sequi said.
Another aspect of China's development that has impressed the diplomat is the nation's leadership capacity, its ability "to choose very important targets or objectives, and to deliver the plans that have been decided".
For Sequi, the fast pace of change is not only being seen in the country's development, but also in its role on the international stage. China "can and should play a big role" in global governance in a "time of big changes", he said.
The ambassador said China has shown it is ready to take on responsibility in global governance, citing as an example the concept of a "community of common destiny", which President Xi Jinping, general secretary of the Communist Party of China Central Committee, has talked about on several occasions.
This concept "implies a higher degree of political cooperation worldwide on a global scale", Sequi said, adding that the "visionary and pioneering" Belt and Road Initiative also demonstrates China's willingness to play a part in global governance.
He said Italy is determined to be a strategic partner in the implementation of the Belt and Road Initiative, as demonstrated by Italian Prime Minister Paolo Gentiloni's participation in the Belt and Road Forum for International Cooperation held in May in Beijing.
"China's vision, which has always been a long vision, is getting deeper and wider," he said. "I believe this is very important for ensuring good global governance and an increasing level of responsibility."
Inclusive development, "one of the key issues that were discussed in the G20 under the Chinese chairmanship", proves that China is having "not only a long vision, but also a wider vision," the ambassador said.